Keum-seok offers innovative Hanbok made from Hanji fabric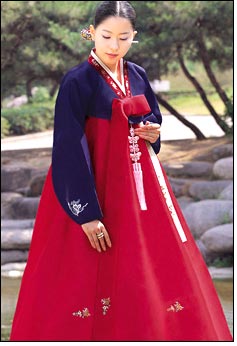 'Han-Style Fashion Show', at Fashion Center in Samsung-dong, will today witness Hanbok, traditional Korean costume in a new avatar. Chae Keum-seok, will showcase her innovative Hanbok made from Hanji, to Korean audience.

Chae Keum-seok, a professor at Sookmyung Women's University, in association with Jeonju municipal Government of North Jeolla Province has put up her collection of more than 125 pieces of garments.

The garments are fabricated from hanji, a Korean traditional paper which is a mix of cotton and mulberry plant fibers. The creations are elegant and functional with lot of traditional images on them.

Keum-seok has maintained traditional beauty of Hanbok, by giving it a modern look. She has made use of bright colours like indigo blue, jade green, white and ink black for capturing the attention of the spectators.

Hanji fabric is also used by manufacturers in making underwears as it is durable, lighter than cotton and easy to wash.

Experts believe that Hanji, with a proper promotion in the market, can become one of the most popular fabric in the country for manufacturing comfortable clothing and uniforms for the officials.