Norway & Pakistan set to increase two way trade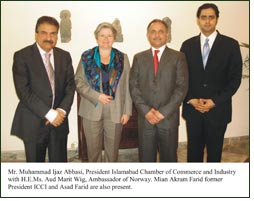 President of Islamabad Chamber of Commerce & Industry Mr. Muhammad Ijaz Abbasi, during a meeting at Norwegian Embassy with H.E.Ms.Aud Marit Wiig, Ambassador of Norway said that efforts are required to increase the trade volume between the two countries.

Mr. Muhammad Ijaz Abbasi said that in 2006-07 the total two-way trade was around 74 million dollars, with balance of trade in favour of Pakistan.

He said these figures reflect that the trade and economic activities between the two countries are not upto the mark as per existing potential.

He said that major items of exports from Pakistan to Norway include fabrics, towels, garments, cotton yarn, textile made-ups, hosiery and sports goods etc. He said that two sides should diversify the products to increase the existing trade volume.

President said that both countries should exchange business delegations, so as to explore the possibilities of the trade and investment in the areas of interest. He said that new government has formed, which is determined to increase the flow of investment in Pakistan.

He added that business community is hopeful that more growth oriented business polices will be formulated, which will help increase local and foreign investment in the country.

He said that one of member companies of Islamabad Chamber of Commerce & Industry, owned by Mian Akram Farid, former President of Islamabad Chamber of Commerce & Industry, which is engaged in steel and hotel business has finalized a deal with a Norwegian company for the import of a Gypsum plant for the production of gypsum board sheets.

He said that it is the first ever plant that would be imported from Norway, which will produce high quality gypsum products, which shall also be exported Norway and other countries. He said that the technical staff will come to Pakistan for installation and training of local staff.