China's mill use continues to grow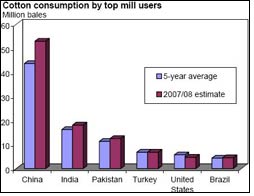 World cotton exports are estimated at 38.9 million bales, up 4.5 percent from the previous year. The bulk of the surge in world cotton exports comes from the United States, Brazil, and India. The United States, the world's leading cotton exporter, will account for 37 percent of cotton exports in 2007/08.

India and Brazil will account for 16 percent and 6 percent, respectively. Brazil is estimated to import 250,000 bales in 2007/08, down more than 50 percent from the previous year. At the same time, Brazil's exports are estimated to grow 77 percent to an all time high of 2.3 million bales.

This surge in exports is partly due to increasing supplies from Brazil's Mato Grosso state where about 52 percent of the country's cotton is produced. In addition, there has been increasing demand for Brazil's cotton from China, Pakistan, South Korea, and Europe.

World cotton imports for 2007/08 are estimated at 39 million bales, up 4.8 percent from the previous year. China has the unique characteristic of being both the world's leading cotton producer and consumer. Given the huge gap between domestic cotton production and consumption, China leads the world in cotton imports.

In 2007/08, China alone is expected to account for 31 percent of world cotton imports, representing 23 percent of China's estimated cotton consumption for that year. Strong growth in textile exports and a growing domestic economy are driving the increasing cotton consumption in China. Mill use in China is estimated at 53 million bales, up 3 million from 2006/07. At the estimated level, China would more than double its use of cotton from a decade ago.