TYR introduces technical swimsuit 'Tracer Rise'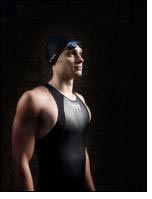 TYR Sport Inc a leader in high performance swimwear for over 20-years presented its latest generation technical swimsuit Tracer Rise at a press conference held during French Olympic Trials.

Tracer Rise features the first woven high performance urethane fabric ever used in competition. Wearing the Tracer Rise, Doug Van Wie set the World Record in the 4x100m Freestyle S.C. Relay.

Featuring Rapid Boundary Technology, the new patent-pending technical swimsuit was unequivocally approved for competition by FINA on April 12.

TYR is the second-largest performance swimwear company in North America and has a brand presence in more than 80 countries.

Over the last decade, TYR has pioneered technical swimsuit developments through research at International Center for Aquatic Research (ICAR, U.S. Olympic Training Center), the University of Buffalo's Center for Research and Development in Special Environments (CRESE) and conducted fabric validation testing by Bureau Veritas, an independent product performance agency.

TYR was the first company to decompose the components of overall total drag in racing swimsuits into three elements: form drag, pressure drag and wave drag.

Tracer Rise utilizes Rapid Boundary Technology, the fusion of a non-permeable, polyurethane micro-coating to a proprietary lightweight water repellent woven fabric assisting the swimmer in a higher body position in the water and drag reduction.

This latest TYR technical swimsuit offers muscle contour seaming, designed to limit muscle undulation and maximize oxygen efficiency to the swimmer's core muscles.