New standards in elastomer plating for circular knitting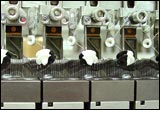 It proved a true visitor magnet at the ITMA 07 in Munich: The Relanit 3.2 II with its High Speed Kit, a new development which allows a circular knitting machine to produce single jersey with full elastomer plating at a rate of 45 rpm in continuous operation for the very first time.

The Relanit 3.2 II could have been purpose designed to work with the latest up-to-the minute yarn types such as viscose, polyamide, cotton etc. The benefits of relative movement technology with its careful treatment of the yarn, its reliable processing with minimized fault quota, and scope for increasing production speeds without compromising on quality have all been implemented to perfection in this machine model. But the achievement of speeds of this magnitude called for further development work.

A new needle was developed specifically for use in the Relanit 3.2 II. In addition, a modified ceramic yarn feeder was inserted in front of the needle curve. The elastomer yarn roller positioned in front of the yarn feeder has also undergone further development and been tuned to work in conjunction with this high speed machine. These developments allow both threads to be ideally positioned to ensure the availability of maximum knitting output at all times.

Another new feature is the patented MCS (Mayer Cleaning System) which is offered as an optional extra for the Relanit 3.2 II. This provides impressive proof that practically oriented engineering always gives rise to the best results. With MCS, Mayer & Cie. has succeeded in achieving not only an effective cleaning function but also additional cooling of the knitting head. The MCS guides air from the atmosphere under pressure through a channel into the segments and expels it in an upward direction. This largely prevents the penetration of lint throughout practically the whole of the stitch-forming area and removes existing dirt from the cam and needle areas. By reducing the degree of wear, this substantially increases the service life of needles and sinkers, while at the same time optimizing fabric quality and extending the necessary cleaning intervals.