Taiwan Textile Fair to be held in New Delhi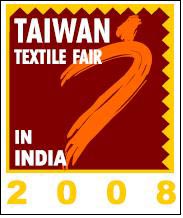 Taiwan Textile Fair (TTF) in India 2008 is being held in New Delhi on June 5-6 wherein well-established Taiwanese companies are exhibiting a wide range of innovative, trendy and high performance textile products like yarns, fabrics and trimmings.

Creativity and functionality of Taiwanese textile products has been acknowledged by leading international designers, brands, importers and retailers in all major importing countries. With their increasing exports of readymade garments and finished textile products, the Indian exporters' demand for world-class yarns, fabrics and trimmings has been on the rise for their export production.

Similarly, with the Indian consumers, brands and retailers turning more quality and fashion conscious, the country has developed a penchant for the high-tech innovative textile products.

"Indian textile market is poised for a high growth. However, to give a major thrust to its export, it is inevitable that the Indian industry focuses on value- added and innovative products which are in demand in the international markets today.

Similarly, in the domestic market it must develop a strategy to seize the emerging opportunities. Taiwan Textile Fair in India 2008 is here to take the Indian industry on this mission." said Jennifer Liu, Project Manager, Taiwan Textile Federation, who is accompanying the Taiwanese delegation on this pan-India tour.

"Taiwan Textile Fair in India is a good opportunity for both the countries to establish several long-term business associations in the field of textiles. The fair will determine business contacts between Taiwanese manufacturers and Indian buyers, importers, distributors, agents and wholesalers looking for such sources," added Arun Roongta, Director, Texzone Information Services Pvt. Ltd., the company which is managing the project in India.