Charlotte Houman reflects on element of water at 'Water Dreams'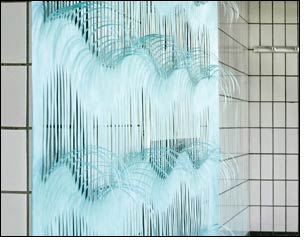 In her new exhibition "Water Dreams" at the Danish Museum of Art & Design, textile designer Charlotte Houman reflects on the element of water.

As a consequence of global warming, water is in short supply in some countries, while it is far too plentiful in other parts of the world.

Water can be a source of life, but it can also take the form of a destructive flood. Water never ceases to hold our fascination – water creates joy as well as fear.

Charlotte Houman lives in the small mountain village of Cuacos de Yuste in Spain. Here, the residents have always fetched drinking water in the nearby springs and irrigated their produce gardens with intricately designed irrigation canals.

But due to reduced precipitation in Spain in recent years, water conservation is now a requirement. The water must be divided evenly among the inhabitants in accordance with unwritten rules.

This is a source of conflict, trouble and worries in everyday life and in relation to the future. Is the Sahara Desert creeping closer?.

In two rooms at the Danish Museum of Art & Design, Charlotte Houman has designed two installations. In the first exhibition room, the work is based on the babbling freshwater spring.

The second room features the main item of the exhibition, the 12-metre long installation "The Wave", conceived on the basis of ocean waves.

Recently, the installation was nominated for inclusion in Expo Zaragoza 2008 in Spain, which has water as its overriding theme.

The forceful appearance of the piece was one of the reasons why the Danish Expo Secretariat under the Danish Enterprise and Construction Authority nominated "The Wave".

These two installations are supported by eight additional works, all with references to the element of water.

In 1990, Charlotte Houman visited the Alhambra complex in Granada in southern Spain, and this visit became a catalyst for her artistic development.