Ms Sue Williams highlighted the vision of SDC at Colour Trends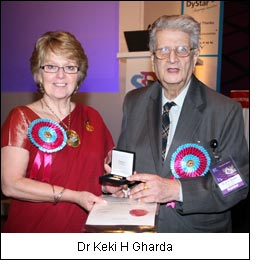 The Society of Dyers and Colourists Education Charity, India organised, the 5th International Conference at Hotel Taj Land's End, Bandra, Mumbai, on 6th June 2008.

The theme chosen for the conference, "Global Retail – Logic or Magic", was primarily supported by DyStar who was the Lead Sponsor, Advanced Enzymes, Resil, Colorband, CHT, Colourtex, Welspun and SF Dyes Pvt Ltd as conference supporters. M/s. Texanlab Pvt Ltd, M/s. Bombay Crimpers Ltd, and M/s. Formokem Ltd also associated themselves with the conference.

This conference with its theme was able to provide a platform for the people from different areas of the colour industry, such as apparel, chemical, retailers and brand owners to come together and share their views for the benefit of the colour industry as a whole.

With the increasing tendency of the Indian consumer to lean towards branded products, it was a necessity for everyone involved in the colour industry, to understand the expectations of the retailers and fashion brands.

With this goal in view, the Society of Dyers and Colourists, made its first attempt to offer insights into the evolutionised thinking and practices in coloration to meet a retailers specifications. Colour is all matters and affects the whole supply chain and it set the tone for the Global Retail. Logic or Magic.

The event began with President Ms. Sue Williams highlighting the vision of the society, emphasizing the need of creating awareness through training the small scale industry in the rural areas of our country and to educate everyone involved with the latest technology, thus enhancing the outputs of the coloration industry.

The Chief Executive and General Secretary of SDC Mr. Kenneth McGhee enlightened the audience with the aim of the Society to advance knowledge of colour in the changing demands of consumer oriented industry in the broadest sense. The various activities of the SDC in India and abroad were outlined by Mr. McGhee in the inaugural session.

This was followed by the Award Ceremony which, witnessed Dr. Keki H Gharda, being honoured by the Society's Gold medal for, 'the outstanding contributions to Dyestuff Industry in India'.

The Silver Medal was bestowed upon Mr. N. Kandasamy for "Outstanding contributions to Textile Industry and Environmental Sustainability in India", and Bronze medal was presented to C.N. Sivaramakrishnan for "enthusiastic services to Society in Mumbai Region."

The Fellowship of the Society of Dyers and Colourists, was awarded to Dr. G.S.Nadiger, Director Laboratories, Textiles Committee, Dr. G.V.G. Rao, President, Atul Ltd, and Mr. Vinod Khetrapal, MD, Bombay Crimpers Pvt Ltd., and the Society's Associateship was awarded to Dr. Pariti Siva Rama Kumar, COO SDC India.

Mr. Mark Astley, Regional Quality Manager South Asia, Ikea Trading (India) Ltd., in the capacity of the Chief Guest, delivered a highly inspiring and informative Keynote address. Addressing the gathering Mr. Astley, emphasised the key points for retail, Quality, Environmental, Social issues and Price.