Factory AG installs Jeti 3324 AquaJet Direct-to-Fabric Printer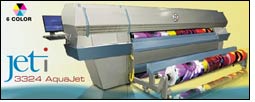 Gandinnovations, a leading global provider of innovative digital printers in large format, announced the first installation in Europe was his Jeti 3324 Aquajet in the plot Factory AG, Switzerland, announced. This new direct-to-digital printers Fabric was recently at drupa 08 and has presented his outstanding results pressure on all types of substances in the industry for unrest ensured.

The Swiss-based, leading provider of large-format printing is pleased to its constituents to press for the Jeti 3324 from Gandinnovations in the future. "The Aquajet will enable us, the material in just one step to print, cut and seal. This is for us a great advantage, because we now no longer need separate Sublimationsmaschine. Long-term we save not only time and resources but also provide a contribution to the protection of our environment, "stresses Rinaldo Fochetti, managing director of the plot Factory AG in Weisslingen.

An extended color scale, environmentally friendly ink composition, a high-quality printing for short viewing distances and a high speed for shorter response times are just some of the impressive performance characteristics, the plot Factory AG persuaded them to opt for the Aquajet to decide.

Currently printed plot Factory AG a variety of substances, such as backlit material, satin fabrics, non-reflective materials and closed canvas as well as transparent and light banner materials. The applications include event displays for flags and banners, indoor & outdoor advertising, exhibitions, museums, for example, housing and even decorations like tablecloths and wallpaper.

Rinaldo Fochetti, the company founded in 1999 and rapidly to large-format digital printing concentrated. The plot Factory AG (www.plotfactory.ch) a leading supplier of large-format printing in Europe. With more than 30 printing presses in widths of 75 cm to 3.30 m, the company is with its 34 employees in a position to the broad customer base in the fields of service providers, jewellery, watches and sports car industry and the advertising and marketing specialists, Fair farmers, event organisers and the retail sector with a comprehensive range of printing services.

Award-winning Aquajet
The Aquajet is equipped with 24 print heads. By winning the European Digital Press "Awards from 2008, the Direct-to-digital printers Fabric Jeti 3324 Aquajet recently the industry's bright puts excitement. This new digital printers Gandinnovations with its specially developed, water-dispersible inks, the 6-color printing and a genuine resolution of 400 dpi convinced the customer by bright colors and sharp images. With a print width of 3.20 meters allows the role printer direct printing of all substances on polyester base to achieve stronger and lichtechter brilliant colors, the value of the substances, flags, banners and textiles for many soft-signage applications. A specially built infrared heating provides striking colors and requiresno separate drying device.