INDA & TAI co-host collaborative workshop on Nonwovens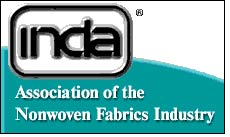 Association of the Nonwovens Fabrics Industry (INDA), USA in partnership with the Textile Association of India has organised the first ever collaborative workshop on Nonwovens in Ahmedabad from July 18-19, 2008.

Dr Sheshadri Ramkumar, Co-Chairman, INDA- India committee, Associate Professor at Texas Tech University, USA and an eminent authority on the subject of Nonwovens will conduct the two day proceedings of the workshop.

There are over 30 participants in the workshop from a wide spectrum of the textile industry which is designed for India's emerging nonwovens sector.

In his opening address to the participants Mr Ramkumar said "2008-2035 is a high growth period for the sector in India. Current market size of the industry in India is in the range of US $5-6 billion and expected to grow to $35 billion by 2035". He projected an annual growth rate of 13 percent for the sector in India.

Giving a comparative study of the US and Indian technical textile industry he said that the US with a GDP of $40,000 had a per capita consumption of 3.0-3.5 kg of technical textiles, while India with a GDP of $850 had a pro rata consumption of just 150 gms. But considering the fact that GDP in India is expected to grow to $30,000 by 2035, consumption of technical textiles is also anticipated to touch 3.0-3.5 kg per capita.

He asserted "India is expected to be par with the US in per capita consumption, which is predicted to touch 20 kgs by 2050."

Though a technical person by education, the economist in him came to the fore when he said "Since economic growth rate is 8-9 percent in India, industry people should not be highly worried by the current rate of inflation which is at 11.9 percent. High growth rates bring in soaring income levels which ultimately lead to increase in consumption of products made from nonwovens like diapers, wipes & hygiene products".

He waxed eloquently on the subject, which kept the participants in rapt attention. He further added "The government of India has come out with a national mission on technical textiles & a fund of Rs 5000 million has been allocated for the same to be utilized over a period of five years. The amount will be spent specifically for the promotion of technical textiles".

He also gave details of the recent announcement of investment of $2.8 billion made by the technical textiles giant Ahlstrom of Finland in the state of Gujarat, India to manufacture medical textiles for the global market.

The other speakers to address the participants were Dr Chandan Chaterjee, General Manager of the Industrial Extension Bureau (INDEXTB), Gujarat who gave details of the support, incentives and subsidies the government of Gujarat has made available to the investors in technical textiles sector.

He also said that a pilot plant to produce and test technical textiles in collaboration with MANTRA and ATIRA, two well known testing and research institutes of repute was in the pipeline.