'There's always something new!' at Texworld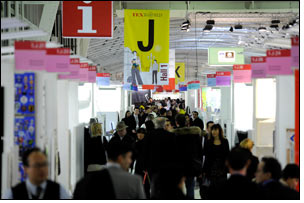 The next Texworld show will take place from Monday 22 to Thursday 25 September at the exhibition ground in Paris Le Bourget.

Once again, the event promises a host of innovations from new exhibitors and their products. More than 780 exhibitors will be presenting their new products to around 17,000 buyers from across the world 87% of which are from abroad.

"There's always something new!" This is what our professional visitors want most of all. According to research conducted at the show, 89% hope to discover new suppliers of specific products.

They like Texworld because it offers a spectacularly wide range of products and because the show gives them every opportunity to find just what they are looking for.

High quality, creative collections at the most attractive prices in the market Companies are selected as much for the quality of their services as for the quality of their products. Most of the exhibitors are from Asia: India, China, South Korea, Taiwan and Turkey.

With each show, they get to know their buyer's demands better and are able to adapt and to respond to what buyers are looking for.

The importance, for example, that Western consumers attach to organic products, or products manufactured with a view to protecting the planet is increasing: fabrics made from recycled materials, renewable materials or materials grown organically and that are increasingly biodegradable.

So soy, bamboo and chitosan are now being used together with more traditional materials: wool, cotton, silk and linen, as well as viscose and polyester.

The creativity and virtuosity of what's available in terms of textiles has developed considerably: fine prints with subtle gradations of colour, jewellery sometimes woven with silk or printed to create unusual light effects, fine, fresh embroidery, hand-painted silks, sumptuous cashmeres, ultra-light wools and magnificent closeweave cottons as well as imaginative denims.

By bringing together innovation, fashion and quality in this way, the exhibitors at Texworld are responding to the needs of professional buyers, even more so by offering their products at the most competitive prices in the Western market.

This makes the Show of great interest for buyers when they are putting together their new collections. Especially in climate where consumers, faced with the rising cost of basic items (food or petrol) are paying careful attention to what they spend and therefore looking for fashionable clothing at the lowest price.

Consumers are now more than ever flocking to snap up special offers and sale items, and they are now favouring the low cost chains.

New exhibitors will feature:
- Youngor Worsted, a specialist in combed wool, founded in Ningho in the Yinxian province in China, combines weaving and finishing using all sorts of mixes with wool, and highly functional finishes: absorbent surfaces which remain fresh,shape memory fabric with good retention. This company, which manufactures 5 million metres of wool fabrics each year, has joint ventures with Itochu in Japan and Marzotto in Italy.

- Tianjin Textile, a major Chinese group, also in the combed wool market, is betting on high technology.
- Mitsubishi Rayon Co, a Japanese company which is using acetate and polyester to create a range of functional Texworld

fabrics: anti-static, anti-microbial, anti-odour, using fabric blends mainly based on chitosan (viscose derived from crab shells).

- Salim Kaskas Co, our first Lebanese exhibitor with headquarters in Beirut. This company has been specialising, since 1960, in highly innovative fabrics (for fashion), using all kinds of silk fabrics such as: shantung, tussah, organza, ponge silk.