Oregon 150 teams with Pendleton Woolen Mills to weave history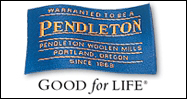 Oregon 150, the nonprofit organization planning Oregon's year-long, statewide sesquicentennial celebration in 2009, announced its partnership with Pendleton Woolen Mills, the Oregon-based company celebrating 100 Years of Weaving America's Spirit, to design and weave an honorary Sesquicentennial blanket and Muchacho (child's) blanket.

The blankets were unveiled by Governor Ted Kulongoski at a special ceremony today at the opening of the 2008 Oregon State Fair, which runs through September 1, 2008 in Salem. The Governor and first lady were wrapped in the blanket (shown right) by Pendleton Woolen Mill's Chairman of the Board John Bishop and Home Division Manager Robert J. Christnacht. The Governor and first lady also introduced the special Muchacho blanket (shown below) .

Both blankets are designed as commemorative items and fund raising tools for the Oregon 150 celebration. Pendleton has a long history of successful fund raising with specially designed blankets.

"We have raised significant funds for the Smithsonian's National Museum of the American Indian, plus hundreds of other organizations through the sale of custom designed blankets," says Bishop. "Being able to contribute to our home state's celebration in the year when we are also celebrating a major milestone of doing business in Oregon is an exciting venture. We look forward to a year of celebration wrapped in this wonderful blanket."

In addition to sales, Pendleton will give a commemorative Muchacho blanket to every baby born in Oregon on January 1, 2009.

"Oregonians have been wrapped in Pendleton blankets for over 100 years," Governor Kulongoski said. "I'm proud Oregon is home to a company that has contributed so much to our state's and nation's history."

"Pendleton Woolen Mills has outdone itself with the stunning Oregon Sesquicentennial Blanket and Muchacho blanket," said Barbara Sidway, chair of the Oregon 150 board of directors." They are the perfect gift -- for the holidays, for celebrating the arrival of new Oregonians in 2009, and to forever remember our amazing state's 150th birthday."

Designer Patty Fogarty was inspired to choose Mount Hood to represent Oregon's past, present and future. "It has watched over our maverick innovations for 150 years. In this bold design, 15 trilliums and 15 ferns each represent a decade of statehood and border our iconic mountain," she said.

The pattern is a serene blue sky, with Mount Hood reflecting a snowy blanket bordered by graphic trilliums and ferns. The blankets are made in Pendleton, Oregon, USA, just as Pendleton has been weaving blankets there in its original mill for 100 years. 150 Limited edition blankets will be offered by Oregon 150 and sell for $5,000. Open edition blankets sell for $248. Each blanket sold includes a letter from First Lady Mary Oberst. The Muchacho blanket is sized 32" x 44" and sells for $78. The blankets will be sold throughout the 2008 Oregon State Fair at the large, new Pendleton display in the Umatilla County exhibit.