Add beauty & grace in rooms with stylish bedspreads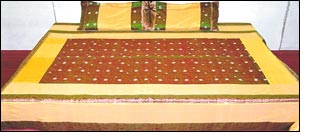 Home furnishing segment has finally come in the limelight, as the new urban fashion conscious class wants their home also to make a style statement and reflect their distinct personality. Curtains, carpets and upholstery all have gone through a sea change in order to lure the potential customers.

Various textile companies along with renowned designers are creating stylish range of home furnishing for eager buyers who are ready to spend large amount on these items. Now fashion has even made its way in the bed rooms which has transformed the once simple and sober bed sheets and bedspreads extremely attractive.

Patch works using different fabrics in various shapes and sizes, elaborate embroidery, bead and mirror works all brought bedcovers on centre stage. Depending on the taste of the customers, the big fashion houses are creating traditional as well as modern designs for the rich and famous, who love to live lavishly.

On one hand, there are modern and contemporary spreads available in fabrics like satin, georgette, crape, chanderi, organza and taffeta which are beautified using fine laces and ribbons. Those who prefer chic style with simplicity, mostly prefer soft hues of white, pink, cream, blue, yellow and lemon.

On the other, there are traditional ones, in heavy materials like silk, cotton and corduroy, which are designed using a bold and bright colour, gives a royal feel due the extensive use of embroidery that include zardosi, kantha and mughal work.

However, one has to keep in mind that style comes at price, be it for designer garments that make the wearer look gorgeous or the bedspreads that enhance the beauty of their rooms.