Massive potential for developing local eco-textile sector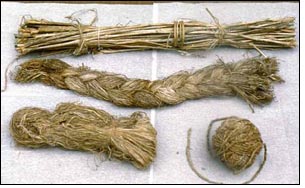 Recently, it was discovered that Nepal has tremendous potential to develop the eco-textile industry and make its mark on the international arena.

It has been noted that the Himalayan Giant Nettle or 'Allo' that reaches the height of around three meters grows wild in the hilly regions of this country.

This fibre is already being used in home-textile and related sectors. However, today, experts have found that allo is great option for garment industry as well.

After appropriate spinning, weaving, dyeing and finishing processes the nettle fibre has similar qualities as linen and ramie.

The nettle or blend fabric absorbs moisture from the body and keeps the wearer cool. Like most natural fibres the nettle is also anti-bacterial and causes no skin irritation. Though this product still has its limitations, it is soft and soothing texture.

Experts say that Nepal has major opportunity here as the awareness about eco-textiles is growing rapidly in the world. Besides, the country also records high production of hemp, cotton and silk.

Manufacturers and retailers were urged to recognize the huge domestic supply of these precious as well as cost effective natural raw-materials and make maximum use of them.