Mr Rangel orders monitoring of textile & apparel imports from China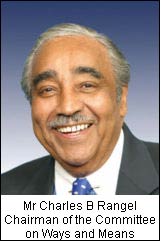 The Chairman of the Committee on Ways and Means, U.S. Representative Charles Rangel of New York, formally requested the U.S. International Trade Commission (ITC) to initiate an investigation to monitor certain U.S. textile and apparel imports from China beginning in 2009.

Chairman Rangel's request is designed to help prevent a repeat of the disruptive surge of Chinese textile and apparel exports to the United States following the discontinuation of quotas in January 2005. The Committee will use the data to evaluate whether the imposition of safeguards are appropriate once the remaining quotas are removed. The U.S.-China bilateral agreement limiting the growth of certain categories of U.S. textile and apparel imports from China expires at the end of 2008.

Chairman Rangel's request follows a September 26 letter to President George W. Bush signed by seventy-three (73) U.S. Representatives led by Textile Caucus Co-Chairs Howard Coble (R) of North Carolina and John Spratt (D) of South Carolina. That letter urged the Bush Administration to extend and expand the Textile Monitoring Program (TMP) to cover U.S. textile and apparel imports from China beginning on January 1, 2009.

The TMP currently monitors U.S. apparel imports from Vietnam for illegal dumping. Ten textile and fiber industry trade associations and the labor union UNITE HERE followed the congressional letter with their own letter on September 29 to U.S. Secretary of Commerce Carlos Gutierrez and U.S. Trade Representative Susan Schwab making the same request.

The expiration of Chinese safeguards next year also has raised grave concerns among U.S. preference partners in the NAFTA, CAFTA, and African countries that rely on domestic components. To underscore this point, seventeen international textile and apparel organizations also sent letters to Secretary Gutierrez, Ambassador Schwab and the chairs and ranking members of the U.S. Senate Finance and the U.S. House Ways and Means Committees urging the extension and expansion of the TMP.

Bruce Raynor, the General President of the labor union UNITE HERE said, "I applaud Chairman Rangel for directing the ITC to monitor U.S. imports of apparel and textile products from China when current safeguards expire. When quotas ended in early 2005, and before safeguards were put in place, China's apparel and textile exports to the U.S soared by over 1,000 percent for some products.

The implementation of safeguards encouraged China to negotiate a bilateral agreement with the United States that saved the jobs both of thousands of U.S. workers and of hundreds of thousands of additional workers in other apparel and textile producing countries around the world. If exports from China soar when the current safeguards expire, any monitoring program should quickly be followed by a new permanent safeguard on apparel and textile products from China."

"We thank Chairman Rangel for his decisive action to monitor imports from China, and we appreciate the leadership he has shown to find real solutions to the unfair trade balance in our manufacturing sector. Today's action strengthens U.S. trade enforcement policy, especially when dealing with non-market economies that provide their manufacturing sectors with massive financial incentives and WTO illegal subsidies," said Cass Johnson, President of the National Council of Textile Organizations. Earlier in the year, NCTO reported that China offered its textile industry 63 different subsidies.