Advanced technology machines from RITM at India-ITME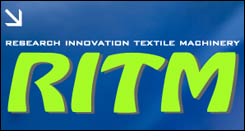 INDIA-ITME will be the major textile event in 2008 in India and RITM is of course going to participate to this show. On its booth at Hall 4/Stand G106, RITM will present one of the most complete ranges for textile machinery.

Today's production of textile and industrial yarns is a challenge requiring flexibility, creativity and market knowledge. With 100 years experience in yarn machinery, RITM (previously known under the brands Verdol, ICBT and Rieter FYT) is a major player in the field of textile machinery.

RITM staff will be present to welcome you on our booth during the INDIA-ITME show, being held November 15-22 2008, in the Bangalore International Expo Centre.

Fine count processing Texturing, Twisting, Covering, rewinding, Assembling… RITM has got always the perfect solution! RITM offers today the most complete range of twisting and covering machinery on the market for all continuous made-man yarns.

Industrial Yarn: RITM reinforces its leading position since the launching of the UT 50 machine, well appreciated for its flexibility and for the quality of yarn and package produced, RITM sets a reference for two-for-one twisting machines for industrial yarns. Listening to the market demands, the machine range is continuously extended to offer the best product answering to all customers' needs.

For Techtextil North America 2008, RITM showed a combined process to produce cords and ropes up to 4mm in a one step process. The UT 50 machine was connected to a Twister Winder GS 2000 from the well-known rope machine manufacturer SIMA, from Italy.

Now a 900mm spindle gauge machine is proposed for twisting heavier yarns. The UT 50 with its current 733mm gauge will be available now in 900 mm gauge as well, which will increase the yarn count range up to 60,000dtex.

Glass Yarns: Worldwide reputation RITM reacts to its customer's demands by offering its products everywhere and supplying permanently the machines that best fits the customer's needs. RITM is always in search of new ways to increase its equipment performances. INDIA-ITME will be the occasion to show off its latest improvements, such as:
- New motorized spindles
- Improved doffing time
- Reduced chain yarn breaks and yarn external pollution
- "Quick UNIX" operating system

Tire Cord: Inventing technology
With its experience built over decades and orders to be delivered in China, Taiwan, Indonesia, Eastern and Western Europe, USA and Brazil, RITM remains the major partner of the tire cord manufacturers all over the world. The open pot technology, allowing tremendous labour cost reduction, gives all our direct cabling machines unrivalled ergonomic and keeps RITM one-step ahead.

The successes of the RITM CP machines show, year after year, its complete suitability with the market needs, not only in term of yarn quality and energy consumption, but also in term of environmental impact of the machines themselves. That is why all our CP machines are equipped as a standard with heat extraction system fully integrated in the machine frame allowing reduction on air conditioning cost and consequently finished yarn cost.