Handicraft trade feels the heat of global recession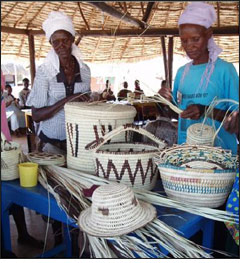 Kenya has been renowned for its traditional as well as innovative handicrafts that are popular in overseas markets.

Tourism has also provided the necessary push to the sales as visitors take away these intricate handicrafts as small souvenirs.

However, even this handicraft industry, which provides livelihood to thousands of locals, is experiencing the effects of global recession.

While, the rising prices of raw-materials have sky-rocketed product rates, exporters are struggling to receive huge orders.

According to Export Promotion Council (EPC) statistics, trade in handicrafts has augmented over the years. In 2004, the export earnings were Sh556 million and in 2007, revenue surged to Sh760 million. This year, though, the council expects the income to plunge.

Infact, several biggies are already expecting 30-40 percent decline in sales this year.

Reportedly, the dealers have failed to attract consumers even in international trade-fairs and exhibitions.

Experts say that as the purchasing power of the people in developed countries has weakened, demand for handicraft items like purses, handbags, traditional wear and home-furnishing accessories has shrunk drastically.

Sources inform that EPC has been working hard to promote handicrafts by arranging participation in expos and fairs. Council is also taking other initiatives in the field.

The commercial craft producers in the North Rift and Eastern region of Kenya are set to benefit from the EPC project on product development and market diversification.

The project aims at expanding the base of products realized in the North Rift and Eastern Regions of Kenya and enhance their competitiveness.

The venture is part of Council's scheme to enlarge exports by supporting new companies including Micro and Small Scale Enterprises.

The products identified as crowd pullers under this project will then test marketed at the Ambient Trade Fair early 2009.