Cotton prices at KCA consolidate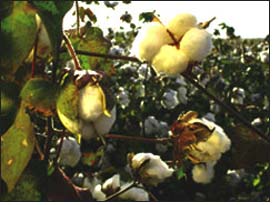 Cotton market remained active as the demand for fine lint moved on the higher side. The producers were quite positive as prices at the Karachi Cotton Market (KCA) stood firm for last few days of the past week and acquired a bullish trend.

During the week starting from November 17 to 22, the market remained in the tight grip of traders.

Mr Ghulam Rabbani, one of the Directors of Karachi Cotton Association, (KCA), while talking to Fibre2fashion said that, on Monday, the spot rate inched up and the settlement was declared at Rs3,000 per maund, reflecting a rise of Rs50 per maund.

On this day, 1000 bales of Shangar were sold at Rs2850 and Rs2890 per maund; 800 bales of Upper Sindh at Rs3100; 2000 bales exchanged hands with in the range of Rs3050 and Rs3100; 400 bales of Hasilpur at Rs3075 per maunds.

On Tuesday, spot prices at KCA remained firm and strong and the settlement was declared at Rs3,000 per maund as on previous day. Buying activity remained thin with the news of Pakistan Cotton Ginners Association's (PCGA) fortnightly cotton arrival.

According to the recent report of PCGA, the data of Pakistani cotton as on November 15, stood at 71,71,640, out of which 1,83,354 bales purchased by the exporters and 49,63,392 bales were bought by the textiles sector. As the difference from last year is coming up to 12,76,720 bales higher, total unsold stock is 20,24,894 bales. This is expected to create some impact on local market prices.

Around 200 bales of upper Sindh were traded at Rs3,030 per maund; 400 bales of Southern Punjab at Rs3,000 and Rs3,020 per maund; some 200 bales of Mirpurkhas at Rs3,030 per maund.

The spot rate at KCA took a step down and the settlement declared at Rs2950 per maund, depicting a decrease of Rs50 on Wednesday.

Limited volume of cotton was released on this day. Every one was expecting some change to come in effect; while buyers were waiting for some good decline, sellers planned to hold, hoping the prices may rise.

Near about 200 bales of Southern Punjab were sold at Rs2,975 per maund; 200 bales of upper Sindh at Rs3,000 per maund and 200 bales of Mirpurkhas were traded at Rs2,990 per maund.

Anticipating Trading Corporation of Pakistan's (TCP) intervention in the Karachi cotton market as a second player, spinners and ginners kept a low profile and thus trading activity remained bearish on Thursday.

The spot rate at KCA continued to be stable and was quoted again at Rs2950 per maund. Now the rate is being settled according to the quality. Fine lint seekers tried their best to cover for rainy days while producers, to get most of their produce. Conclusively the market is moving in a range of Rs2700 till Rs3000.

Around 200 bales of Upper Sindh changed hands at Rs2,985 per maund; 200 bales of southern Punjab at Rs2,900 per maund and 200 bales of Yazman at Rs2,995 per maund. Some cotton sold in Mirpurkhas at Rs2700, while a few deals were inked at few stations of Punjab at Rs3000 as well.