Skill up-gradation for leather women artisans by Kanpur BDS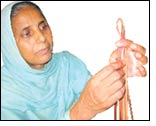 In the saddlery products range there is a small yet crucial component of hunter products. This product goes as an accessory with the Saddle and is mainly manufactured by unorganized home based units run primarily by poor women who use leather scrap to produce a range of hunting products such as whips, sticks etc. In Kanpur city there are three pockets where women make these hunter products with each pocket consisting of about 200 poor and illiterate households.

Skill development for enhance participation by women in the cluster:
The role of women in the leather cluster has been severely limited to home based activities such as the manufacture of open footwear or various accessories like hunter etc. On the other hand the leather cluster has been facing an acute shortage of manpower to work as machine operators in the factories.

The project has already started a successfully PPP (Public Private Partnership) initiative to create a model of training to produce skilled operators. The industry has been responding positively to absorb these operators which included a few women candidates. A feedback from the factories indicated that women operators are:

1.More productive
2.Produce better quality
3.Do not get involved in non-productive activities and are sincere.
4.Have a low rate of attrition if the workplace is not far from their residence/ proper means of commutation are there.

Based upon this feedback, the fourth batch of training has 16 women participants as These women groups are associated with a middleman who brings orders, supplies scrap leather and other raw materials and pays the local women leader on a per product basis (generally in the range of Rs1 to Rs 2 per product). This local women leader in turn pays the other women artisans. Each woman makes around Rs. 10 per day on an average. The combined output of the women artisans is about 1.5 million pieces per year.

The BDS Project has identified the potential to improve the condition of these groups of women through the introduction of new products, development of new designs, skill up-gradation of artisans, marketing linkages etc. The initiative aims at establishing sustainable service provision for enhancing the options of income generation for these women artisans. Keeping in view, a local NGO has also been involved for mobilizing the community and organizing them in group of artisans. The initiative is likely to serve the dual purpose of -

a)Access to a new and better talent pool
b)Economic upliftment of women from poor backgrounds.

Seeking constant improvement-the kaizen workshop:
The diagnostic study conducted at Kanpur leather cluster revealed that the leather industry especially the footwear units are having serious issues in the field of productivity enhancement which can debilitate the competitive stance of the cluster in front of emerging progressive countries like China.