Fibre2fashion to help coir cluster harness power of internet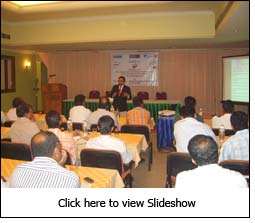 Cluster Pulse, a professional NGO working for the holistic development of clusters co-organised with other like minded organizations like SIDBI, a seminar titled "How to generate new business in times of global economic slowdown and an opportunity to the Coir industry to cater to the world market through E-Marketplaces".

This conference was held in Alleppey which is the nerve centre of Kerala's famous Coir industry. Coir Industry enjoys the status as the largest cottage industry in Kerala, giving employment to over a million people. From amongst the many products manufactured from coir are mats, matting and other floor coverings.

Among the speakers at the seminar was Mr Viren Mehta, Head of Marketing at Fibre2fashion, who delved at length on the benefits and advantages offered by using the internet as a medium for furthering business in these critical times and how Fibre2fashion could contribute to the development and prosperity of the coir industry at large.

Fibre2fashion is taking keen initiatives in the development of different clusters spanning across various sectors and takes pride in the fact that it helps in contributing towards the successful execution of cluster development on the virtual world (Internet) and is the preferred choice of various government bodies behind cluster development.

The coir industry entrepreneurs present at the seminar heard the presentation given by Mr Mehta with rapt attention. He started off the seminar by explaining the imperatives of global economic slowdown by delving in to statistical data and the impact the global crisis will have on businesses worldwide and exports in particular.

Next he explained the advantages thrown up by harnessing the power of the internet and the revolution it has created by changing the way business is done globally and delved in detail on the various tools and tactics available today on the internet to an entrepreneur to beat and survive through the slowdown in world economies.

He further explained the advantages thrown up by Fibre2fashion which is the number-1 website for the textile, apparel and fashion sector and covers the entire textile vertical from fibre till fashion and is also an online media facilitating, promotion, marketing and advertising with best of technology tools and an innovative approach.

Fibre2fashion is also the online media partner of the UN sponsored "International Year of Natural Fibres 2009", whose objective is to raise awareness and stimulate demand for natural fibres; encourage appropriate policy responses to the problems faced by natural fibre industries and promote efficiency and sustainability of natural fibres industries.

Giving out details of the world class services on offer from fibre2fashion, he said, "We provide business as well as knowledge services and from amongst business services we offer, Premium Membership, Corporate Promotional Plan, Advertisement and Branding Solutions for clusters, projects, trade fairs and companies".