Rohm & Haas now to become Dow Advanced Materials Division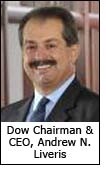 The Dow Chemical Company announced that it has completed its acquisition of Rohm and Haas. The acquisition is a major step in Dow's strategy of growing its performance products and specialty portfolio to deliver more consistent earnings growth.

Combining the two organizations' best-in-class technologies, broad geographic reach and strong market channels will create a $14.0 billion diversified business portfolio, which will be called Dow's Advanced Materials division. The division is intended to achieve $3.0 billion in additional value growth opportunities, as well as annual cost synergies of $1.3 billion.

"The closing of this transaction strongly positions Dow for the future by transforming our business portfolio," said Dow Chairman and CEO, Andrew N. Liveris. "This is an exciting day for all of Dow's stakeholders, and we are committed to delivering on a clear and measurable plan designed to meet the needs of our investors, employees, customers and suppliers, even in this current challenging macroeconomic environment. Our first critical task is to ensure a seamless integration of Rohm and Haas that maximizes the synergies and opportunities offered by this transaction."

Rohm and Haas is the key element in Dow's new Advanced Materials division. Pierre Brondeau has been named president and CEO of this division, which includes: Coatings, Building and Construction, Specialty Materials, Adhesives and Functional Polymers, and Electronic Materials.

Transaction Delivers on Announcement Day Promises
We expect the creation of Dow's new Advanced Materials division will:
- Deliver significant cost and revenue synergies: Based on work that has been ongoing since July 2008, Dow has increased its annual cost synergy estimates to $1.3 billion, capitalizing on additional expected cost savings in the areas of combined purchasing and centralized business services.

- Leverage Rohm and Haas's strengths and drive growth for the combined company: Dow's Advanced Materials division will provide deeper geographic reach, increased channels to market, and complementary technologies. In addition, the combined company will have one of the largest research and development programs in the chemical industry.

- Enable Dow's transformation into an earnings growth company: By expanding its specialty chemicals and advanced materials businesses, Dow has shifted the balance of its portfolio to this higher growth, higher margin area. The Advanced Materials division is strongly positioned in more resilient markets, as well as businesses that are poised for growth in the economic upturn, including coatings, adhesives and electronics.

Continued Progress on De-leveraging
Dow has decided to exercise its option to have the Haas Family Trusts make an additional $500 million investment in Dow equity. This is consistent with Dow's disciplined plan to retire the bridge loan for the financing of the Rohm and Haas transaction by the end of 2009. This will be accomplished through the sale of assets, issuance of equity and debt, and the previously announced reduction in the Company's dividend to preserve cash.