BENTEKS of COMEZ to present at ITM 2009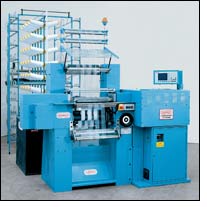 COMEZ will be present in Booth 910 / HALL 9 of its agent BENTEKS A.S. at the forthcoming ITM 2009 Fair, to be held in Istanbul, from 6th to 10th June 2009, and will exhibit one model from its broad range of machinery.

COMEZTRONIC CT-11B
Highly productive and versatile electronic crochet knitting machine for the production of an extensive range of laces, bands and ribbons, both rigid and elastic, which offers:
• maximum levels of productivity and versatility
• quick article or pattern change times
• a strong and compact structure; the machine is also extremely user-friendly and simple to maintain.

This machine is fruit of a project based on a global system involving:
• the updating of mechanical parts to guarantee both full interchangeability of parts and accessories (so as to allow rapid article changes), and the application of a new and advanced electronic technique allowing all movements to be programmed without the need for mechanical intervention on the machine;
• ultra high-tech hardware and software covering all the functions of the machine.

COMEZTRONIC CT-11B comes with a 600-mm operating width, is fitted with 10 electronically driven weft bars and 1 bar shifted by the weft device, and is available in gauges 15 and 20 n.p.i.

The high number of bars and the electronic operation system allow elaborate patterns to be created, with very long pattern repeats.

The electronic drive of the thread feeders and the finished product take-down allows for the possibility of different stitch density values (stitches/cm) on one single product, as well as different values for weft/warp feeding and elasticity.

This machines is fitted with the new generation DATA CONTROL CONTROLLER, governing the latest generation of actuators. These new actuators feature excellent dynamic performance and positioning precision, far superior to previous types. The CONTROLLER manages all necessary machine functions, monitors production data and allows for the realisation of lengthy pattern repeats: the number of lines for each pattern can reach a value that is just about unlimited.

The pattern is programmed by our exclusive COMEZ DRAW or SYSTEM.WIN software, compatible with any IBM-compatible Personal Computer. Pattern data is transferred from a PC to the DATA CONTROL CONTROLLER on the machine by means of a MEMORY CARD.

The COMEZTRONIC CT-11B expresses at top levels the high quality of COMEZ technology, representing a unique production means at disposal of the manufacturers of sophisticated articles for underwear.

Electronics applied to COMEZ machines are totally exclusive, entirely designed, developed and created by COMEZ.

COMEZ S.p.A.