Daily worldwide cotton market report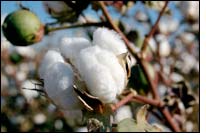 Last night in New York futures market, May 2009 closed at 49.94 with a gain of 63 points the volume of contracts traded was 4719, the July 09 closed at 50.69 with a gain of 78 points with 7457 traded contracts , the October 09 closed at 53.34 with a gain of 69 points and the volume traded was 45 contracts , while the December 09 closed at 54.95 with a gain of 67 points and a trading of 873 contracts . The A index declared settled at 57.20 with an increase of 90 points today.

The spot rate of KCA moved once again and the settlement declared at Rs. 3550/= with an increase of Rs. 50/= today . In the domestic market 2000 bales changed hands in Rahim Yar Khan at Rs. 3600/= , 400 bales of Chishtiyan sold at Rs. 3575/= , 500 bales of Haroon Abad sold at Rs. 3575/= , 3500 bales of Shuja Abad sold at Rs. 3550/= , 1000 bales of Jalal Pur sold at Rs. 3535= , 3600 bales of Ghazi Goth sold at Rs. 3500/= , 400 bales of Sanghar sold at Rs. 3500/= , and 400 bales of Tando Adam sold at Rs. 3550/= .

First notice day for May is next Friday April 24th.

The C.F.T.C. reported that as of April 9th there were 2639 unfixed call sales and 1222 unfixed call purchases basis May. The report also showed 11,115 unfixed call sales and 2,150 call purchases basis July.

An article from a Business Daily reported that, "China's Q1 GDP expanded 6.1%. That was the slowest yearly gain since at least '92, as exports plunged due to the global slump. Still, China's results are far better than the severe contractions in the U.S. and other big powers. And March data suggests Chinese growth is picking up. A key capital spending measure rose 30.3% from a year ago vs. 25.3% in Jan.-Feb. Industrial output improved to an 8.3% gain."

Daily further said that, "the latest economic data is mixed. March housing sank 10.8%, erasing much of Feb.'s 17.4% jump. But single-family starts have held steady for 3 months, hinting at a bottom. New jobless claims fell 53,000 last week to 610,000, the lowest since Jan. But continuing jobless claims topped 6 mil. The Philly Fed manufacturing index was the latest report signaling a slowing factory decline."

The daily added to above that, "Global slump seen dragging on. 'The combination of financial crisis and a globally synchronized downturn is likely to result in an unusually severe and long-lasting recession,' the IMF said. Such recessions typically last about 2 years, and it takes some 3 ½ years before an economy hits its previous peak. The IMF called for aggressive monetary and fiscal policies to ease the financial crisis, which intensified last Sept. after Lehman Bros. went bankrupt."

Ghulam Rabbani & Co.