Cotton prices finishes higher for third consecutive week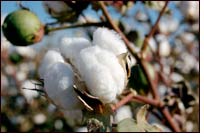 Despite the second wide spread rain in less than a week for the Texas High Plains, weak outside markets and a firm US dollar, cotton seemed to almost defy gravity Friday. Cotton prices finished higher for the third consecutive week and the fifth time in the last six weeks.

Accounts holding both long and short positions, probably mostly MMM or co-ops, have piqued everyone's interest in that the number seems unusually high with only a week to go before delivery begins. As of Friday, 39 percent of May's open interest was held by accounts with both sides. This drops the effective net positions in May considerably. No one seems to be comfortable in predicting exactly what this anomaly means.

Last weeks Export sales report continued to impress. Somewhat mind boggling is the fact that despite the roughly 8 cent rally, US cotton continues to move in impressive amounts to India and China who are both awash with government owned stocks as well as Pakistan, Turkey and Mexico.

Despite a fairly strong market the last few weeks Like it or not, global demand for cotton remains limited. In the April report, USDA cut it estimate of world usage for the tenth consecutive month. This represents the biggest year-to-year cut in modern history. However, US cotton has gotten more than its normal share. In fact as percentage of world trade, US participation is at a historical high.

At the bottom of the market a few weeks ago, US cotton was the most competitively priced cotton in the world. But that is changing as African and Greek styles have moved to the forefront. Nevertheless it is believed that significant demand for our cotton remains and sits just a few cents below the market. Surprisingly the demand has not totally dried up on this rally and another good export report is expected next Thursday.

Despite the fact that May cotton goes into delivery next Friday, April 24th. Mill fixations (potential buying) against the May contract has been slow developing and as of last weeks report, there were two contracts to be bought for each one to be sold to fix call contracts. Cotton traded on call must be settled before first notice day or rolled forward.

Looking on down the road, potential buying in July to fix prices is five to one over potential selling. These are the kind of statistics that certainly bolster the opinion that sell offs for now could be well supported.

In the last four weeks. 5,507,054 bales have been redeemed from the loan. Presumably, a large percentage of this has been hedged leaving the trade very little ammo to slow the spec buying. On the other hand, it could certainly lesson the demand for cotton still held by producers. In any event, there are only 1,217,456 bales about half of which is in Texas.

Technically, swing objectives of 5100/5200 are now almost met which could leave the market vulnerable to a "normal" correction. However, last Mondays sharp "three minute dip and rebound" must serve as a reminder of how fleeting and short lived the corrections can be.