Daily worldwide cotton market report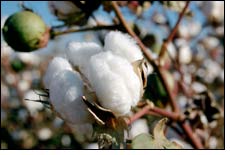 Last night in New York futures market, May 2009 closed at 49.83 with a gain of 204 points, the July 09 closed at 51.30 with a gain of 230 points, the October 09 closed at 53.78 with a gain of 213 points, while the December 09 closed at 55.36 with a gain of 207 points. The A index declared settled at 56.45 with a decrease of 130 points today.

The spot rate of KCA remained firm and strong, settlement declared at Rs. 3550/= with no changes today. In the domestic market 3000 bales of Bahawal Pur sold at Rs. 3600/=, 1000 bales of shuja Abad sold at Rs. 3500/=, 2800 bales changed hands in Bagh o Bahar at Rs. 3650/=, 800 bales of Sadiq Abad sold at Rs. 3700/=, 1000 bales of Rahim Yar Khan sold at Rs. 3650/=, 700 bales sold in Fazil Pur at Rs. 3500/=, and 600 bales of Rajan Pur sold at Rs. 3600/=.

First Notice Day for May is Friday April 24th. There are 4,251 May contracts open down 7,795 calls on yesterday's trade.

The ICE reported that as of April 17th funds were 4.9% long down from 7.2% long the previous week.

According to a business daily, "The U.S. Economy is giving off mixed signals. Industry demand and employment contracted at a slower pace in April, NABE's survey of business economists said. The Chicago Fed's national activity index also was less negative in March. The leading indicators' pace of decline quickened, though the Conference Board predicts the recession will ease after summer."

Daily further reported that, "OECD: Stimulus may be working. China's 6.1% Q1 growth rate was evidence of a 'very powerful, very strong' stimulus, Angel Gurria, head of the Organization for Economic Cooperation and Development, told Reuters. While it was the weakest yearly gain in years, most economists say China's growth rebounded on a quarter-to-quarter basis from a near-stagnant Q4.

Gurria added that higher public spending and bank aid were also helping stabilize the U.S. economy. But he said govt's may have to do more and that the global economy won't start growing again until the end of next year. China and India will likely be among the few bright spots.

The OECD expects its 30 member nations to shrink 4.3% this year." In the third article daily said that, "China's economy will grow 8.3%, slightly faster than the govt's 8% target, as a $585 bil stimulus outweighs a decline in exports, the Chinese Academy of Social Sciences said. The OECD and World Bank see China growing 6%-7%."

The USDA reported that as of April 19th the 15 states were 11% planted verse 8% last week verse a 14% on average. CA was 45% complete with AZ 35% planted.

According to Cotlook, "March yarn output Data from the National Bureau of Statistics (NBS) indicate that yarn output in March rose sharply to 1,953,300 tonnes, up 30 percent from the previous month. The total represents the second highest on record, after June 2008 (1,999,000 tonnes). According to NBS, cumulative yarn output in the first three months of the year amounted to 4,801,900 tonnes, up eight percent compared with the same period last year."

Ghulam Rabbani & Co.