Metal-infiltrated spider silk to have increased toughness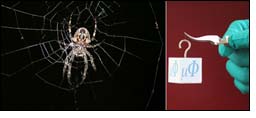 Spiderman would definitely have an easier time of things with this spider silk - for example, if he had to stop a getaway car moving off at 100 kilometres per hour. A five-millimetre-thick thread would do the job from a distance of 20 metres - assuming it had been treated by a team of researchers from the Max Planck Institute of Microstructure Physics. The same task would require a finger-thick thread of untreated spider silk and a steel rod as thick as a forearm. The Max Planck scientists strengthen the natural material by infiltrating it with metal ions. It may also be possible to strengthen other natural and synthetic fibres in this way.

Even if it has nothing to do with the elevator for the ISS space station, the vision being pursued by NASA in its dream factory, a steel cable that pulls the elevator in a skyscraper on the scale of the Empire State Building, has to carry almost as much in its own weight as it does in the actual elevator cabin. And the higher the buildings, the thicker and heavier the cables become. A material that is as strong as the spider silk infiltrated with metal ions produced by the Max Planck Institute of Microstructure Physics could help with this application.

The fact that spider silk treated with metal ions does not break under enormous tension is just one of the advantages it has to offer: "It can be expanded twice as much as natural spider silk," says Mato Knez, who is heading the research at the Max Planck Institute. As the treated material withstands high levels of tension and strain, it absorbs ten times more energy than the natural material before it breaks. Thus, it is particularly suitable for braking at full speed or braking free fall, for example in the case of a mountain climber.

Materials with such properties could also be used in aircraft and vehicle construction or in space technology, generally for any application that requires light, strong, and flexible materials. "Our work promises great potential in terms of practical applications, as many other biomaterials can be made more break-resistant and ductile using our method," explains Mato Knez.

There is one important precondition, however: the natural materials must contain proteins as their main component. For example, Knez and his colleagues have already used the metal infiltration process to strengthen fibres made of the protein collagen which composes bones and skins in human body.

As the researchers discovered, the strengthening treatment for spider silk and other protein fibres only works when the metal ions can penetrate into the fibres. To achieve this, they adapted the atomic layer deposition (ALD) technique. This method is usually used to deposit individual layers of metal oxides on the surface of materials by exposing them to water vapour and a volatile compound comprising metal and organic appendages in rapid succession. Up to a few hundred of such gas pulses stream into the material and coat it with a more or less thick layer of oxide. "Because each pulse only lasts fractions of a second, the metal does not penetrate the material, however," explains Mato Knez: "Therefore, we adapted the equipment so that we could extend an individual pulse to a duration of up to 40 seconds."