IMB lives up to its claim of being the sector's top event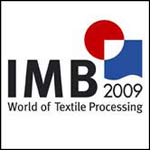 After four days, IMB 2009 - World of Textile Processing, ended on Friday, April 24, 2009, and the trade fair's exhibitors and visitors indicated they were entirely satisfied with the event. A total of 509 companies from 34 countries presented themselves - and their talents for innovation - to the international trade visitors at the textile processing industry's leading trade fair.

"IMB 2009 thoroughly lived up to its claim of being the sector's top event," concluded Gerald Böse, Chief Executive Officer of Koelnmesse. "Nearly all the market leaders from Germany and around the world were represented at IMB in Cologne. They generated new momentum for the sector and sent a positive signal at the right time concerning the future development of the industry. That is what makes a sector-leading trade fair stand out from the rest."

Elgar Straub, Managing Director of the VDMA German Garment and Leather Technology Association, the conceptual sponsor of IMB, agreed: "This was what the sector needed: an IMB to demonstrate the sector's innovative power in line with the highest international standards, while serving as the ideal sector meeting place. Also important is for the exhibitors to offer a good spectrum of products and services and to reach the right visitor target groups. IMB 2009 succeeded on both counts."

Of the roughly 20,000 visitors from 100 countries that were registered for IMB 2009, more than 50 percent came from outside Germany. As expected, the number of visitors from abroad was down due to the worrisome economic conditions. The turnout of visitors from European countries (including Germany), however, remained stable and strong.

This also was confirmed by Eva Jubitz, Marketing Director of Lectra Deutschland GmbH: "IMB went very well for our company. We were pleasantly surprised that the fair surpassed our expectations. Not only was the turnout of visitors very good, their decision-making power also was very impressive. They were mostly from India, Russia and Germany."

Dr. Andreas Seidl, CEO of Human Solutions GmbH, welcomed fewer visitors at his company's stand, especially from North and South America, but he was nonetheless quite satisfied with IMB: "On every day of the trade fair we made about 30 percent more customer contacts than at IMB 2006. As far as we are concerned, the turnout of trade visitors and their decision-making credentials was a very welcome surprise."

Exhibitors have high praise for trade visitors' decision-making status
The very high level of decision-making responsibility of the IMB trade visitors was the object of almost unanimous praise by the fair exhibitors. "Although there were fewer visitors than at the 2006 event, the quality of the discussions and the contacts made increased considerably," summed up Petra Grathwohl, Sales & Marketing Manager Industry of Gütermann SE.

Thomas Willing, Managing Director of Avery Dennison Central Europe GmbH, also was very impressed by IMB: "It was simply a super trade fair, a complete success. We welcomed many more trade visitors than in 2006. And they were top decision-makers." The high level of decision-making responsibility among the trade visitors was confirmed by the results of an independent visitor survey: The survey respondents said that about 80 percent of visitors are involved in purchasing and procurement decisions, and 33 percent even play decisive roles in the decision-making process.