'Investing in technology is reason for success' – Ahmad General Mills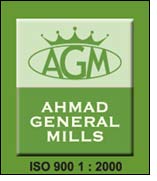 Ahmad General Mills, an ISO 9001:2000 Pakistan based textile company was set up in 1954 and has completed 55 years of its glorious existence. What began as a small lace manufacturing company, is now today a multi-dimensional company in to manufacturing of a hue of accessories for the textile and apparel industry like tapes, labels, elastics, draw strings, bar code stickers, inlay cards and not to forget laces and even medical gauze bandages.

To know more about their journey of 55 years, Fibre2fashion spoke to Mr Masroor Ahmad Alvi, Director of Ahmad General Mills. We started off by asking him to share his observation on the transition that industry has undergone during this epoch period, to which he said, "Initially the industry was established keeping in view the requirements and the fashion trends prevailing in Pakistan".

He added, "During 1970's when USA and Western Europe stopped investing in their textile and garments industry catering to the requirements of their middle class customers, the textile industry in Pakistan started witnessing a boom. There was a sudden rush for export orders, be it garments, towels, knitwear or home textiles and to meet this demand, huge investments were made in the local industry".

He continued, "Latest machines were procured from Germany, Italy and the UK. The objective was to increase production, give better quality and at competitive rates. Later on machines from South Korea and Taiwan were also imported into Pakistan as there was a shift in the machinery manufacturing base from Europe to the Far East because of cheap labour".

He concluded by saying, "At present in Pakistan there are plenty of state of the art spinning, weaving & processing units. The garments units are supplying to the best brands in Europe and USA. All this is possible because of the investments made in machinery, genetically modified germ free cotton is being produced and not to forget our labour force who have worked untiringly over the last 3 decades".

Next we asked him to apprise us and our readers on the products that they offer and the countries they supply to, to which Mr Alvi said, "We manufacture narrow width fabrics, namely; Knitted Elastics, Woven Elastics, Jacquard Elastics, Cotton & Polyester Twill Tapes, Woven Labels, Saturn Ribbons and Cotton & Polyester Belts".

He explained, "Since the products manufactured by us are raw materials for the garments, knitwear, home textiles and leather apparel manufacturers in the domestic markets, it is very seldom that we export directly. There are instances when we have exported to Bangladesh, Cambodia, UAE and Jordan and were primarily meant for the garments manufacturing facilities established in these countries".

We then asked him to discuss global market trends and consumer choices in lace industry, to which he said, "The trends and requirements in the lace market vary from country to country. In Europe and USA it is mostly used in knitwear whereas in Africa and Pakistan, very broad laces are used in fashion wear. The local industry has also witnessed phenomenal improvement with the induction of high-tech machines from Japan and Europe".