Synergy effects ensures Intertextile Guangzhou is a big success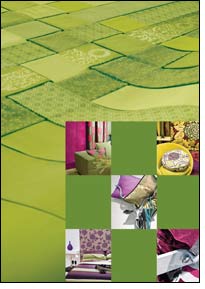 The 2009 edition of Intertextile Guangzhou Hometextile China attracted 16,451 visitors from 123 countries and regions. The show took place over four days from 18 – 21 March at the China Import and Export Fair Pazhou Complex.

Covering 20,000sqm, the 152 exhibitors from China, Korea, Pakistan, Germany, Switzerland and the UK had the unparalleled opportunity to showcase their latest product lines, technological innovations and designs to a bevy of top local and international buyers.

"The objective of benchmarking Intertextile Guangzhou Hometextile China as an important home textiles trading platform in Southern China was realised. Consequent synergy effects from participating under the umbrella of the 23rd China International Furniture Fair sealed the success of the show. Exhibitors and visitors for various reasons were delighted with Intertextile Guangzhou Hometextile China and already many have promised their return next year," said Ms. Wendy Wen, Director of Trade Fairs for Messe Frankfurt (HK) Ltd.

Positive feedback from exhibitors and visitors reaffirms the show's important position in Southern China.
The downturn in the global economy did little to dampen the trading atmosphere of Intertextile Guangzhou Hometextile China. Mr. Teddy Zhang, Foreign Trade Department representative, Hangzhou Yuhang Zhinong Cotton Co Ltd, observed. "Irrespective of the current economic climate, business locally and internationally was good. We obtained many new contacts and leads that far exceeded our expectations. The synergy effect generated by the furniture fair ensured good visitor flow. We are very pleased to have participated at Intertextile Guangzhou Hometextile China."

Mr. Zhang Yinhu, Assistant General Manager, Zhejiang Noah Textile Co Ltd was equally pleased, "We got more visitors and enquiries than last year. I believe in view of the prevailing credit crunch, local and overseas sofa manufacturers tend to invest more in developing new and better product ranges. As a supplier of high-end sofa materials, we received a lot of interest in our goods. We will definitely be returning next year."

The robustness of the domestic home textile market was an eye opening experience for Mr. Irfan Ahmed, Chief Executive Officer of Indus Home Limited, who said, "our initial aim in participating in this show was to gain a foothold in the home textiles markets of South East Asia. However, after meeting with a number of key retail and industry buyers from Mainland China, we realised that we had underestimated domestic demand for top quality towelling products. The connections made during our time at Intertextile Guangzhou Hometextile China will prove beneficial in building up our brand recognition as well as our distribution channels in the country."

Feedback from visitors also proves Intertextile Guangzhou Hometextile China continues to grow in strength and popularity. According to Ms. Oxana Dyakovichof Decorelle Design and Interior Studio, Intertextile Guangzhou Hometextile China is an excellent sourcing platform. "Between my colleagues and I, we have been attending this show for nine years. The selection of quality fabrics at competitive prices is exceptional, allowing us to pass these savings directly to our customers back home in Siberia, " she said.