Daily worldwide cotton market report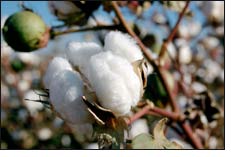 Last night in New York futures market, July 09 closed at 52.70 with a loss of 32 points, the October 09 closed at 54.95 with a loss of 52 points, while the December 09 closed at 56.01 with a loss of 49 points. The A index declared settled at 59.25 with an increase of 45 points today.

The spot rate of KCA remained firm and strong, settlement declared at Rs. 3550/= with no changes today. In the domestic market 400 bales traded between an export house and a mill in Karachi at Rs. 3600/= , 600 bales of Bucheri changed hands at Rs. 3700/=, 1000 bales of Mirpur Bathoro sold at Rs. 3850/= ( New Crop July 09 Delivery ) , 1400 bales of Fazil Pur sold at Rs. 3500/= , 1000 bales of Burewala sold at Rs. 3590/= , 800 bales of Nurpur Nauranga sold at Rs. 3550/= , and 800 bales of Ahmed Pur East sold at Rs. 3550/= . Finally 200 Bales of Mirpur Khas sold for a July Delivery from new crop at Rs. 3900/=.

China last week unveiled a three-year plan for revamping its textile and clothing industries which are confronted with a serious slowdown of exports. Research and Development will be enhanced for developing new products while further automatization should improve productivity. Officials also insist on reducing energy and water use by textile companies while there is a need for developing the domestic market and global apparel brands.

Polyester prices are rising on the Pakistan domestic market, reflecting an increase in PSF prices from China and higher raw material costs. A recent jump in cotton prices is also stimulating the use of polyester fibers.

Export prices of Indian yarns recently rose on the international market, thanks to a stronger demand. While export prices slightly increased for cotton yarns and surged for viscose yarns, they however declined for polyester-cotton yarns, our India Correspondent reports.

Polyester prices are surging in China where demand for cheaper fibers is boosting the market. Raw material costs of polyester makers are also sharply increasing, offering good reasons to push up prices to higher levels. The recent rise in cotton prices is also supporting the PSF market while demand for filament yarns is progressively improving.

The post-quota period is offering extremely contrasted situations for US imports from China, as reflected by our detailed analysis of the very important categories 338/339 (cotton knit shirts). While Chinese prices may have declined for a 10-digit HTS tariff line, they rose for another one. Growth of Chinese imports may also widely change from a product to another one.

Ghulam Rabbani & Co.