Wearable textiles to be featured at NYIGF Handmade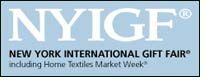 Eco-friendly materials and fine craftsmanship will be showcased by newcomers to Handmade at the summer 2009 New York International Gift Fair (NYIGF). Other highlights of the juried craft division include an increased number of jewelry resources and more wearable textiles – two "affordably indulgent" product categories during a tight economy. Handmade at NYIGF is scheduled for Saturday, August 15, through Wednesday, August 19, at New York City's Jacob K. Javits Convention Center.

Sustainable Sources
"Craft artisans were 'green' before it became part of the vernacular," said Dorothy Belshaw, NYIGF director and GLM senior vice president. "Handmade buyers can see how these talented artists excel in using sustainable materials not only to create new products, but also to further develop existing lines."

Fidoodle's Canadian-based artist, Jennifer Bulthuis, designs wooden puzzles and puppets using wood from well-managed forests, organic cottons, and non-toxic ink. The Lauren LaChance Collection from Austin, TX, includes museum-quality wall art featuring plant pressings of tropical orchids, leaves, sea plants and wildflowers. Amuck, a jewelry company from Kansas City, MO, developed its line from found objects such as street signs and license plates, combined with sterling silver and copper.

Jewelry Resources Abound
Jewelry, which is viewed by many consumers as an "affordable indulgence" during a tough economy, is well represented within Handmade. Talented jewelry designers accepted into the division presented innovative designs using unexpected materials. A South Korean company, Min-Jin Cho Jewelry, has recently introduced the "Gloves' Dream" series of jewelry fashioned from rubber gloves. Strapped Belts, a glass design studio in Jackson, WY, creates cufflinks and belt buckles from colorful fused glass. Noa Ecco of Maple Glen, PA, known for its wooden jewelry with accent on colors and textures, will introduce metal, painted and batik jewelry to the market.

Increase in Knits and Textiles
Wearable textiles such as knitted scarves and wraps – another "affordable indulgence" for consumers – also will be prevalent at Handmade. EXOT, an NYC-based importer of "fashion forward ethnic" textiles from Southeast Asia, has gained a reputation for supplying customized and one-of-a-kind pieces, including scarves, shawls, sarongs, and pillowcases. Harshita of Yardley, PA, creates wearable art such as scarves, shawls, handbags, tunics and jackets with designs and color schemes reflecting elements of nature, man made structures, symbols of Indian culture and simple geometrical forms. The Joanna John Collection of Middlebury, CT, specializes in unique hand-quilted coats and jackets made from vintage dowry quilts from India.

Jury Selections
Handmade will welcome 25 new companies to the August 2009 market, with selection criteria including uniqueness, originality and authenticity. Jury members, who are professionals in the craft or design field, include: Carol Sedestrom Ross, GLM, a dmg world media business; Alden Smith, Aid to Artisans; John Gilvey, Hudson Beach Glass; Michael Michaud, Table Art/Silver Seasons; Ellen Corsell, Heron American Craft Gallery; and Franci Sagar, Museum of Arts & Design.