BT cotton hybrid technology to revitalize sick textile industry - LCCI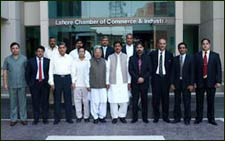 Pakistan would have to focus on genetically modified and hybrid crops to tap true potential of agricultural productivity in the country in the shortest possible time.

This was the upshot of speeches made at a seminar on Challenges and Opportunities in Agbiotec in Pakistan. Provincial Minister for Agriculture Ahmad Ali Aulakh, LCCI President Mian Muzaffar Ali, Vice President Irfan Iqbal Sheikh and former LCCI Vice President Shahzad Ali Malik threw light on the issues being faced by the agricultural sector in Pakistan.

At the technical session of the seminar, leading agricultural experts..Dr G M Awaisi, Chief of R & D Department of Guard Agricultural Research and Services, Dr Shahid Raza, Dr Tayyab Husnain of Centre for Excellence in Molecular Biology, Dr Aslam Yousaf of Aziz Group, Dr Mohammad Ashraf of Pioneer Pakistan Seed, Mr shahid Mansoor, Mr Jamshed Iqbal Cheema, CEO Auriga Group and Dr Ghazanfar Ali Khan outlined the methodology to multiply agricultural yield.

The Provincial Minister, while stressing the need for establishment of institutes both at provincial and federal levels for creating awareness among the farming community about Genetically Modified (GM) technology, said that sustainability and improvement in crops yield are the major challenges to meet upcoming threats of increasing population and depleting water resources.

He said Biotechnology has shown considerable potential to raise agricultural productivity by addressing problems not solved through conventional research.

Among other application of biotechnology, development of genetically modified organasims is the promising tool to facilitate plant breeding in development of crops to insect and tolerant to herbicide.

The Minister said that GM crops have contributed to sustainable development in several significant ways including: Contributing to food security and more affordable food, conserving biodiversity, alleviation of poverty and hunger, mitigating climate change and reducing greenhouses gases, contributing to the cost-effective production of biofuels and above all by contributing to sustainable economic benefits. In addition to aiding in issues of food security, genetically modified crops have an important role to play in lessening the environmental impact and improving the sustainability of food production.

Insect-resistant rice, for example, has the potential to benefit about 1 billion people. LCCI President Mian Muzaffar Ali said that Pakistan's agriculture sector was losing heavily due to insufficient utilization of biotechnology as the magic progress of worldwide- agriculture sector is only due to Genetically Modified crops.

He said that agriculture sector in Pakistan has a huge potential. It continues to be the single largest and dominant driving force for growth as well as the main source of livelihood for 66 percent of Pakistan's population. But it has always faced two major problems: first, productions per acre are lower than many countries. Secondly, around 40% of production is wasted in the form of post-harvest losses due to insufficient utilization of biotechnology.