Daily worldwide cotton market report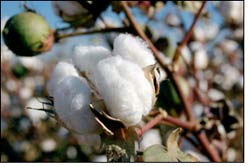 Last night in New York futures market, July 09 closed at 57.20 with a gain of 285 points , while the volume traded under July was 18021 contracts , the October 09 closed at 59.20 with a gain of 294 points with a volume of 226 contracts , while the December 09 closed at 59.90 with a gain of 244 points the volume of business under December cover was 3590 contracts . The A index declared settled at 59.60 with an increase of 35 points.

The spot rate of KCA moved once again and posted itself to a declared settlement of Rs. 3600/=, with an increase of Rs. 50/= today . Domestic market still is in an inactive phase , still lacking activities , but some contracts brought to papers of about 4000 bales from Khanpur at Rs. 3700/= . 400 bales of Daharki sold at Rs. 3650/=, 200 bales of Ghotki sold at Rs. 3525/= .

Nylon market prices are sharply rising in China from the very low level reached in the first quarter this year. Caprolactam recently surged in Asia, mainly due to a lack of supply, therefore boosting prices in the nylon 6 chain. Filament prices may further increase to restore margins of polyamide fiber makers.

Wool prices again surged in Australia this week, whatever the rise in the local currency. A continued lack of supply pushed wool to a six-month high. Prices should stay very firm until August.

Polyester prices further rose in the last two days in China, with staple fibers finally gaining 25 cents per kilo in April. Such a surge should be confronted with the need for China's textile industry to cut its production costs in order to overcome the global economic crisis.

US cotton pullover imports strongly fell in the first two months of the year, being negatively affected by the economic recession. Shipments from China however surged while strongly rising from a small number of other Asian countries. Central American suppliers are confronted with a dramatic decline in US orders.

Ghulam Rabbani & Co.