Maishaa gives shapes to dreams & enlivening lives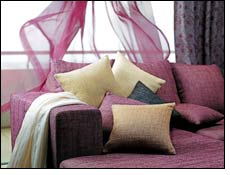 The breeze of freshness started blowing two years back when Maishaa, the luxury home textile brand from the internationally acclaimed and multiple award winning house of Pasaya, Thailand, made its debut in India.

Maishaa instantly charmed connoisseurs and lovers of good homes with its truly international fabrics, captivating designs, rich feel as well as sophistication blended with charm and oomph. The brand was conceptualized with a belief in mind that the pleasure of living can be enlivened by the "Passion for Life". Since its inception, the core philosophy of Maishaa has been to create products for enhancing the passion of each individual.

To create the right product and impact in synergy with its core philosophy, Maishaa partnered with some of the world's established international textile brands and manufacturers.

It was no surprise that Maishaa quickly became the most preferred and cherished luxury home textile brand in India. The brand has risen on the strength of its unmatched quality, superior finish and international pedigree which itself was the result of constant research & innovation and promise of the brand to bring to customers the latest in fabric technology, both in terms of production and introduction of new range of superior fabrics.

Maishaa today has an unmatched pool of talented, experienced people from the textile, fashion, retail and marketing arenas in India, constantly innovating, perennially designing, giving shapes to dreams and enlivening lives.

The brand has been riding the success of its values and innovations and gaining clientele and popularity with each passing day.

INNOVATIONS INTRODUCED BY MAISHAA:
Introduction of Sofin in Indian textile:
Sofin is the trade name of micro fiber filament created by Toray Industries Inc. The fiber has its fame for excellent softness and grace, in addition to its hygiene and durability as of the quality of man made fiber. Sofin consists of micro fibers with a diameter of only 6.5 micron which is 4 times finer then natural silk, 8 times smaller than cotton and 40 – 100 times thinner the human hair.?? All these distinctive qualities can be found exclusively in Maishaa by Pasaya bed linen–The Softmante Collection & Marco Polo Collection.

Formaldehyde Free textiles: The art of sleeping:
Many countries such as Japan allow only formaldehyde free textiles to be used for household usage, due to its adverse impact on health and safety. Maishaa has been the first brand to introduce formaldehyde free bed linen and present the concept of safe sleeping. Formaldehyde free bed linen by Maishaa provides you all time safety and comfort in place where all of us have to spend one third of our life time living in.

The Sanitized Seal:
The Sanitized seal is a worldwide recognized symbol for antimicrobial protection. Humans & animals are protected by nature against excessive microbial infestation. Sanitized provides durable protection against the increase of bacteria, yeasts, fungi on textiles, thus ensuring your personal well – being and maximum comfort. All Maishaa's products bear the sanitized seal.