ITEMA Weaving to present latest weaving technology at ITM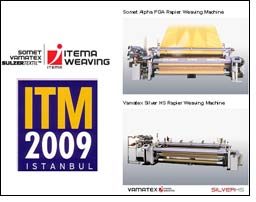 ITEMA Weaving – an Italian-Swiss House of Brands - is providing the famous weaving ma-chines Sulzer Textil, Somet and Vamatex and will present the latest innovations in weaving technology at ITM, Istanbul, 6-9 June 2009.

Sulzer Textil and Somet products at: Bilol booth, Hall 7, Booth 731
Vamatex products at: Modiano booth, Hall 7, Booth 732

ITEMA Weaving is the only company to produce weaving machines with the three leading weft insertion systems, providing the right weaving technology for every application.

Whether your requirements call for the most flexible rapier technology, a projectile weaving ma-chine for demanding technical fabrics or high performance air-jets with the lowest air consumption, ITEMA Weaving is the ideal partner.

Somet Alpha PGA Rapier Weaving Machine
Thanks to the universal PGA gripper, the ALPHA PGA is the most flexible machine with regard to inserting different weft materials and yarn counts into the same fabric (e.g. upholstery). This pro-vides more flexibility, higher efficiency of production and convenience for style changes. The Alpha PGA weaves an unlimited range of fabrics and materials at a high production level.

Vamatex Silver HS Rapier Weaving Machine
An advanced development of the propeller rapier movement system and the optimized shedding geometry makes the Vamatex Silver HS the most competitive rapier weaving machine in the mar-ket. End users benefit from the highest speed, low maintenance requirements, fast style change and lowest production cost. This model is best suitable for home textiles, high quality shirting and denim.

Vamatex Silver DynaTerry Rapier Weaving Machine
Vamatex is the famous brand in the world for terry rapier machines. The superior technology of DynaTerry has been proven in the market all over the world. The Silver DynaTerry is the best solu-tion to produce high quality terry products towels.

Sulzer Textil G6500 Rapier Weaving Machine
The technical capabilities of the Sulzer Textil G6500 Rapier weaving machine is recognized and appreciated worldwide. The Active Rapier Technology (ART) is capable to insert an unlimited range of weft yarns into the same fabric. This model is best suitable for technical fabrics and high class apparel and household goods.

Sulzer Textil L5500 Air-jet Weaving Machine
The outstanding performance of the Sulzer Textil L5500 high production weaving machine with the least air consumption of all air-jet machines on the marked guarantees a positive return on invest-ment. This model is best suitable for light weight denim and sheeting.

Sulzer Textil P7300HP Projectile Weaving Machine
The low energy consumption, its versatility and the outstanding adaptability to the ever changing market make the Sulzer Textil P7300HP projectile weaving machine a safe investment with excel-lent return on investment. The projectile weaving machine is best suitable for technical fabrics and high class denim.