'Herbal fabrics extremely therapeutic to eyes & mind' – Aura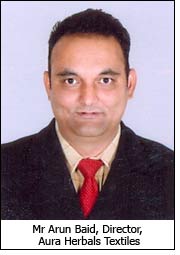 Herbal Textile is dyed entirely with herbal extractions, without using any sort of chemicals and the process is different from that of vegetable dyes. The herbs used in the dyeing process are cultivated in South East Asian countries like Pakistan, Bangladesh, and India. They also possess natural and medicinal value. Each and every herb used has their own unique medicinal value and are used for treating various ailments. They are becoming increasingly popular in the countries of the European Union.

To bring forth to our readers, the attributes of herbal dyed fabrics, Fibre2fashion spoke to Mr Arun Baid; Director of the India based Aura Herbals Textiles Ltd, who is in to manufacturing of herbal textile fabrics. Aura Herbal is certified by Global Organic Textile Standard (GOTS) for their natural/herbal dyeing process and certified organic fabrics, textiles and yarns are used as the raw material.

We began the interview by asking Mr Baid to explain the difference between normal and herbal dyed fabrics, to which he carefully explained by saying, "Organic/Herbal fabric is soft in feel and will have more strength then conventional in comparison and it would have typical smell of herbs used for processing the same. The colors may change with the other physical/chemical and external environmental changes and are extremely therapeutic to eyes and mind. Herbally dyed colors are created from plants and minerals. All of the dyes have therapeutic uses as botanicals (herbs), or as homeopathic (diluted), or as nutritional supplements (minerals)."

Next we asked him to divulge the process involved in dyeing fabrics with herbs, to which he answered patiently by saying, "The process of herbal dyeing was developed through extensive research during the age-old dyeing methods practiced since the days of the Indus civilization. The process of herbal dyeing starts with the gray cloth passing through several stages of treatment before it becomes colorful and ready to wear. During this entire treatment only natural processes are used and the fabrics & yarns used are certified organic cotton, natural cotton, silk, wool, linen, jute, hemp etc. and their natural blends".

He added by saying, "The washing of processed greige cloth starts with removing sizing, gums and oils used in the course of weaving by washing with natural mineral-rich water and sea salts. While bleaching, fabrics are exposed to direct sunlight, use of a natural grass base and animal manure starts the bleaching process and to make the colors bright and fast natural mordents such as, Myrballams, rubhabs leaves, oils, minerals, alum, iron vat etc are used. We do not use heavy metal mordents like copper, chrome, zinc, tin etc".

While dyeing, "Aura uses only medicinally rich herbs, plant material, minerals & oils like, turmeric, Myraballam, castor oil, sea salt etc for dyeing fabric or yarn. We have aspired to achieve and retained the medicinal qualities of the herbs by immersing the plant material directly in the dye bath for the same reason. In Herbal Dyeing, finishing is done by sprinkling pure water on the cloth and then stretching under pressure, using hand rolls, aloe Vera, castor oil etc, and for the purpose of recycling, solid and liquid waste is separated through the process of filtration and used for farming purposes as manure & watering the fields".