Stephan Gunold pleased with the tenor of the IBM show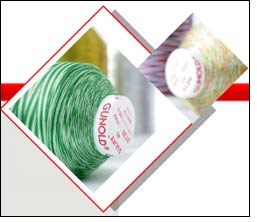 The German based company Gunold GmbH, based in Stockstadt, hit the mark with their approach for this year's tradeshow IMB 2009, held in Cologne, Germany.

The brand-new products SILK, POLY FIRE and TEXTI 1485 appealed to customers just as much as the demonstrations at the single head embroidery machine (Fortron). Numerous expert discussions with trade show visitors promise a bright future for the company. Stephan Gunold, responsible for marketing, explains: "We had excellent customer contacts, among them important embroiderers from abroad as well as major apparel manufacturers. We predominantly met decision makers at our booth; therefore our contacts seem to be very promising".

In addition to their extraordinary product range of embroidery threads, stabilisers, fancy fabrics as well as auxiliary products, the trade show visitors were especially interested in the new embroidery thread highlights "SILK" made of a 100% pure silk, in "POLY FIRE", most suitable for flame-retardant clothing as well as in the stabiliser TEXTI 1485 made of 100% viscose.

Embroidery Stabilisers with more Thickness
The extremely soft tear-away stabiliser TEXTI 1485 is characterised by a high firmness yet it is still tearable and has quite a volume and texture. It comes in rolls of 100m width, but may be cut according to your wishes. "With the introduction of TEXTI 1485 we definitely hit the mark. A lot of embroiderers as well as apparel manufacturers are sold on this new product. We have therefore decided to offer an even wider range of stabilisers with more volume and texture in the line of the existing STIFFY stabilisers. Even so these stabilisers have more volume and texture, there is no change in the weight of the products; there is just a different feel to it", Stephan Gunold announced.

Embroidery with 100% Pure Silk: Sheer Luxury
With the slogan: "SILK – Pure Silk, Luxury for Classy Embroideries!" GUNOLD GmbH introduces a very precious embroidery thread for extravagant embroidery. SILK is made of 100% pure silk and adds special splendour to your precious clothing. The sumptuous feel as well as the smoothness of this embroidery thread completely convinced the trade show visitors. Made of 100% pure Chinese silk, SILK will transform your already high-class garment into a luxury garment. The SILK colour card currently shows 12 soft shades which are offered on miniking cones of 1,000m each. SILK is certified according to Öko-Tex Standard 100 (Product class II) and is machine-washable up to 40°C. "Embroideries made with SILK – Luxury for classy embroideries! Just gorgeous!", comments a trade show visitor

Protection against Heat and Flames
Protective clothing is more important than ever and wherever it may get hot, work clothes have to be made of flame-retardant materials. This is true for the fabric, as well as for embroidered logos, badges and letterings. The new flame-retardant polyester embroidery thread POLY FIRE is treated to be resistant to heat and flames and meets the ISO norm 15025 and EN ISO 6941(Flame-retardant clothing).