Daily worldwide cotton market report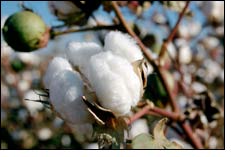 Last night in New York futures market, July 09 closed at 56.22 with a loss of 133 points the volume traded was 8917 contracts, the October 09 closed at 58.52 with a loss of 110 points with a traded volume of 110 contracts, while the December 09 closed at 59.48 with a loss of 90 points with a volume of 3312 contracts traded under the December cover. The cotlook A index declared settled at 62.10 with a gain of 120 points today.

The spot rate of KCA remained firm and strong with the settlement declared at Rs. 3750/=, with no changes today. In the domestic market today 600 bales of Khipro sold at Rs. 3500/=, 300 bales of Sanghar sold at Rs. 3500/=, 200 bales of Odero Lal changed hands at Rs. 3500/=, 1400 bales of Rahim Yar Khan sold on credit at Rs. 3900/=, 1000 bales of Chani Goth sold at Rs. 3725/=, 330 bales of Bahawal Pur sold at Rs. 3700/=, and 100 bales of Rahim Yar Khan sold at Rs. 3700/=.

The USDA reported that as of May 17th, U.S. cotton plantings were 42% complete versus 53% on average. Mississippi was 52% complete versus 75% on average. South Carolina was 38% complete versus 60% on average and Alabama was 47% complete versus 71% on average.

The president of the World Bank, Robert Zoellick, said that the pace in decline of global growth is easing and that growth could come back later this year. There is still some uncertainty surrounding this prediction because the hard hit Central and Eastern European countries will foreign investment dry up. However, China may beat growth estimates after moving quickly to stimulate their own demand.

The China Cotton Association conducted a survey in late April that indicated that cotton planted area may decline by around 12.38% from the 08/09 season, to 77.5 million mu. In March, the Association forecast a steeper reduction of 14%. According to the article, the survey results show that recent increases in price have influenced farmers to favor cotton. Also, spring weather for sowing cotton has been favorable overall and good progress ahs been made.

"Encouragement to plant alternative crops and the relatively high cost of cotton cultivation have influenced over half of the cotton growers interviewed to reduce area. However, 20 percent believe that government policies will play a positive role and foresee that demand will gradually pick up, so they have increased their plantings to cotton. About 26 percent have sown a similar area to last year."

Mr. Xu Wenying, president of the China Cotton Textile Association, has called for the state reserves to be released to the market at lower prices, in order to ease the pressures the industry is facing right now, according to a report from China Textile News. Mr. Xu has suggested setting selling prices at 11,000 to 11,600 yuan per ton, levels that would be affordable to mills, despite the fact that reserves were procured at 12,600 yuan per ton (basis Grade 3).

Ghulam Rabbani & Co.