Textiles, clothing industry in woods; seeks labour reforms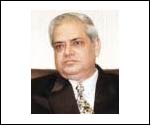 The community of textile and clothing exporters is haunted by fears that leading importing countries are in for a worse time leading to evaporation of orders from India and fiercer competition from rivals like Bangladesh and called upon the government to bring about flexibility in labour laws to combat the tough times ahead.

News pours in day in and day out that countries like the United States, the European Union and Japan are getting deeper into the financial crisis -- dipping consumer demand and consequential cancellation and reduction in import orders. They hope that the UPA government, free from incumbrances of the Left parties, will be able to muster enough political will to carry out labour reforms.

Says Chairman of the Apparel Export Promotion Council (AEPC) Rakesh Vaid the industry needs a new direction and priority treatment and exuded confidence that the new Textile Minister Dayanidhi Maran would be instrumental in bringing investment and qualitative changes in the textiles and clothing industry, just as he had done in his earlier 'avtar' as Minister for IT and Telecommunications.

"I am optimistic that the government will take forward the reform process initiated in areas like FDI, trade liberalisation and fiscal reforms as also bring about more bilateral agreements with important apparel markets like the European Union and the United States," he said.

He said the Minister, who hails from Tamil Nadu which is a hub of the apparel industry, will have greater sensitivity towards concerns of textile and clothing producers. The sector's competitiveness is getting tarnished due to high power and transaction costs and outdated and stiff labour laws, which is resulting in closure of units.

Mr Vaid said apart from improving the industry's cost competitiveness and aggressively going in for capacity building, it is necessary to increase installed capacity in the apparel industry and give fiscal incentives for market, product and skill development as well as R&D.

Apart from simplification of exim norms, friendlier labour laws are necessary to facilitate capital investment.

Says Secretary General of the Garment Export Association (GEA) Surinder Anand, "garment manufacturing is extremely labour intensive and will remain so even with greater automation. A congenial labour environment is, therefore, necessary to ensure maximum productivity. The obsolete and antiquated labour legislation is hindering the growth of the garment manufacturers."

"The restrictive industrial and labour laws restrain the capability of managements to respond professionally, effectively and speedily to the fast changing dynamic international textile scenario. The government should have pragmatic, balanced and flexible labour laws keeping in view the recent changes in economic, commercial and fiscal policies nationally and internationally," he said.

Mr Anand said under the present provisions of the Factories Act, prior permission of a factory inspector is required for allowing work overtime.