Sleep comfort is measurable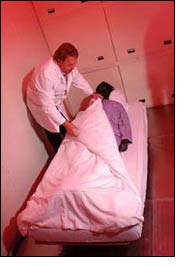 Sleep comfort is one of the first words that comes up no matter who is talking about the quality of bedding. Yet in most cases, there are no objective and comparable specifications a sales consultant can use to give customers a well-founded recommendation suited to their individual needs.

What does sleep comfort mean?
Supporting the physiological processes that take place in the body when a person sleeps at night are vital. The temperature balance between the human body and the surrounding temperature and warmth and moisture management within the "sleeping den" are key to a good night's sleep. The sleep comfort of bedding is defined by its ability to maintain a comfortable body temperature during slumber while transporting perspiration away from the body quickly and effectively. Bedding that offers a high level of sleep comfort is required for comfortable and restorative sleep.

How is sleep comfort measured?
The degree to which a blanket, for example, meets those demands, is principally dependent on the materials of which it is made and its construction. In recent years, the Clothing Physiology Department at the Hohenstein Institute has made a significant contribution to optimising the sleep comfort of bedding.

It has defined objective and reproducible parameters for the physiological comfort of a textile material and finished textile products and developed means to measure these properties physically. With the help of these innovations, the scientists at Hohenstein are able to compare the properties of different materials and provide references for optimising the structure and materials used.

When it comes to measuring the moisture permeability ("breathability") of materials, the technologies developed at Hohenstein using a skin model in accordance with the EN 31092 and ISO 11092 standards have been proven to produce demonstrably more significant results than other methods. In addition, they can be reproduced at any time and as a result offer and opportunity to compare different products objectively.

If breathability results are given in terms of g/m² in 24 hours, then consumers should exercise caution. In these cases, measurements were made using beakers or saucers that do not provide data relevant for sleep comfort. General statements about which materials provide particularly high levels of sleep comfort cannot be made, because it is always their combination with one another and the structure of yarns and textile fabrics that determine if the physiological processes are given optimal support.

What role do body weight and ambient temperature play in choosing a bedcover?
The thermal insulating effects of a bedcover play a particularly decisive role in managing warmth. Earlier, the principle was the thicker and heavier the cover, the better the thermal insulation. By contrast, today, research has shown that in developing modern bedcovers, the aim is to produce a product that provides thermal insulation that is tailor-made to the individual, while keeping the weight of the blanket as low as possible.