Valox iQ stain resistant technology to maximize PCR content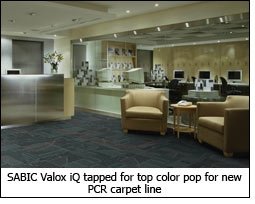 At SABIC Innovative Plastics, customer focus, collaboration and application co-development are an integral part of the company's business strategy. So when Interface Americas, Inc., the world's largest manufacturer of modular carpet and a leader in the sustainability movement, created its new Convert carpet line to leverage the use of post-consumer recycled (PCR) nylon fiber, SABIC Innovative Plastics provided total customer support.

Working closely with Interface and its converter, Universal Fibers, Inc., a leading supplier of high-end solution-dyed (melt pigmented) fibers, SABIC Innovative Plastics developed Valox iQ 2205HV resin for the new application. The environmentally progressive, high-performance resin is used as a critical additive to provide permanent stain resistance and strong, consistent color, and to maximize PCR content. The new carpet line – sporting unique modular designs – was on display at NPE 2009 in the SABIC booth.

New Valox iQ 2205HV is highly effective in dispersing pigment throughout the polymer melt to produce consistent, vivid colors – what the flooring and carpet industries call "color pop" – with lower loadings of expensive colorants. Compared to fiber that is dyed after being produced, solution-dyed fiber using Valox iQ resin maintains excellent color and provides permanent stain resistance to prolong carpet life, maintains an attractive appearance, and makes cleaning much easier.

"This is an exciting program," said Richard Crosby, global product marketing and technology leader, SABIC Innovative Plastics. "Valox iQ resin was developed as an environmentally responsible solution by incorporating upcycled PET bottle content. Now, it's being used as an important additive that, combined with other environmental technologies, is helping to take sustainability to a whole new level. The versatile Valox iQ resin technology is helping our customers in totally new market sectors to support their most important environmental initiatives, like Universal Fibers' ReFresh® yarns and Interface's new Convert carpet."

Modular carpet is the leading trend in commercial and institutional carpeting because it is easy to replace or repair and enables special aesthetic effects and designs. The Convert product, available in 64 shades and many different styles, is the result of collaboration between Interface, Universal Fibers and SABIC Innovative Plastics. Interface and Universal Fibers, as part of the Carpet America Recovery Effort (CARE), are installing infrastructure to recover spent carpet, and recycle the fiber and backing to produce PCR carpet. The SABIC Innovative Plastics technology helps ensure performance and color equal to that of virgin carpet.

As an additive to the melt-pigmented PCR ReFresh yarns, Valox iQ 2205HV resin provides permanent resistance to staining from acidic substances such as coffee, fruit juice and red wine. Its ionic polarity provides optimized dispersion of pigments in the polymer melt to produce uniform, eye-catching colors. Valox iQ resin is comprised of up to 65 percent discarded polyethylene terephthalate (PET) bottles upcycled to produce polybutylene terephthalate (PBT), resulting in a reduction of carbon dioxide (CO2) emissions up to 55 to 75 percent lower than that of regular PBT resin.