Cotton traders to keep eye on AWP/futures relationship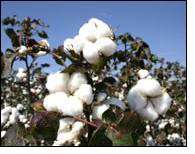 After a promising run that lifted values by more than 700 points in less than three weeks, the market was once again unable to establish itself over 65 cents and it quickly fell back to its starting point. This time around the selloff left some bearish marks on the chart, because the market breached a long-term uptrend line dating back to early March, which prompted some of the speculators that had sponsored the advance to bail out of their positions. Open interest has so far contracted by about 6'200 contracts since last Thursday.

Despite the breach of a long-term trendline, the bullish camp has not given up and is pinning its hopes on a short-term pattern which may form a 'double-bottom', provided the market is able to hold the 57.99 cents low of July 27. We believe that the odds are good, because selling pressure has subsided over the last couple of sessions and mill interest is starting to pick up again.

After the AWP/Dec futures spread amounted to 1491 points last Thursday, it has since dropped to just 1130 points when measured against next week's AWP and 1222 points against the daily AWP of this morning. Of course this AWP calculation is only of theoretical significance at the moment, because there is hardly any old crop cotton left in the loan and new crop cotton has not yet entered the marketplace in any great numbers. Nevertheless, it is important to keep an eye on this AWP/futures relationship because in about a month from now the government loan will begin to fill up and the redemption game begins anew.

It will be interesting to see what role US exports play this season. Two years ago, when global prices were relatively high, the US was forced to assume the role of residual supplier, as foreign exporters were eager to market their cotton first. Last year the opposite was the case, because foreign governments did not like the market's discounted price level and intervened via domestic price support schemes, thereby allowing the US to step in front.

The 60-cents level seems to be a demarcation line between these two scenarios. If prices fall below, governments in India and Central Asia will likely withhold some of their cotton again and China may enter the world market to buy for its reserve. On the other hand, if prices move above 60 cents there will be increased competition for US cotton, which should contain the market's upside potential. Therefore, it would not surprise us to see prices meander above and below the 60 cents level for some time to come. At this point we simply do not see any reason for the market to stray too far in either direction.

The AWP (Adjusted World Price), which is the level at which US cotton can be redeemed from the loan, serves as the starting point for US export pricing. By adding various cost items (equity value, quality premiums/discounts, transportation) we arrive at the price at which US cotton competes overseas. In other words, the price of US cotton is to a large degree dependant on its foreign competition, since they compose the AWP. However, thanks to the fact that the AWP remains frozen for a week at the time, a trader is able to take advantage of swings in the futures market by locking in a favorable AWP/futures spread that creates an attractive basis-long position, which can then be sold 'on-call' to mills, regardless of where the physical price level is at that particular moment.