WACKER showcases innovative solutions at ABRAFATI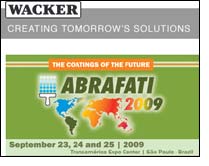 Under the "Inspired by Excellence" motto, the Munich-based WACKER Group will present sustainable product solutions from its areas of expertise in coatings and construction at ABRAFATI 2009 – the 11th international tradeshow for suppliers to the paints and coatings industry. The focus is on fragrance complexes for innovative coatings, and pyrogenic silica for controlling powder flow and rheology of coating materials. Other focal points include silicone resin emulsion paints for the lasting protection of buildings, and user-friendly binders that are free of ammonia, plasticizers and solvents for indoor and outdoor paints. ABRAFATI 2009 will take place from September 23-25 in São Paulo, Brazil.

WACKER has developed a system that, despite their high volatility and chemical sensitivity, enables fragrances to be used effectively in building applications. Cyclodextrins play the key role here. Cyclodextrins are non-reducing chiral sugars, whose molecules are made of several glucose building blocks linked into a ring. They are arranged so that they have a lipophilic cavity (i.e. one with an affinity for fat) in their interior.

This cavity can receive another lipophilic molecule as a "guest", provided it is of the appropriate size and shape. The cohesion between the two molecules is relatively weak, enabling the guest molecule to be released again under suitable conditions, e.g. by atmospheric humidity. This ability to enclose other substances reversibly makes WACKER's cyclodextrins invaluable in many products and industries, such as household and personal care, pharmaceutical and cosmetic preparations, textiles and foods.

At ABRAFATI, WACKER will present an innovative construction application for these ring-shaped sugar molecules. In wall paint formulations, for example, cyclodextrins release sensitive actives at a controlled rate once the coating material has dried and set. Thus, for the very first time, essential oils and other fragrances can be used in various non-hydrophobic construction applications, such as floor coverings, plasters, paints, fillers and other coatings and sealants.

HDK Pyrogenic Silica Controls the Flow of Liquid and Powder Coatings
Pyrogenic silica is produced by the hydrolysis of volatile chlorosilanes in an oxyhydrogen flame. This yields a high-purity, amorphous silicon dioxide powder, which WACKER has been marketing under the HDK tradename for many years. Besides its high purity, HDK pyrogenic silica is also characterized by the very large specific surface area of its particles. This is responsible for the substance's wide range of technologically attractive properties.

HDK applications include rheology control of coatings and printing inks, adhesives and sealants. In the formulation of low-solvent coatings (high solids), such as for automotive coatings and solventless and water-based systems, HDK pyrogenic silica offers selective control over coating thickness and leveling. Moreover, it improves the storage stability of the systems by effectively preventing pigment and filler sedimentation. In clear coats, HDK pyrogenic silica ensures high transparency.