Wear nature with Amazzonia fabrics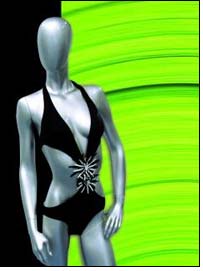 At a time of ecological ethics of the whole world growing stronger, Carvico is putting more emphasis on vegetable fibre, with a fabric named after the planet's last great natural lung: Amazzonia. This eco-sustainable fabric conceals two fibres within its knit that ensure high performance and make it ideal for all sports – from beachwear and competition swimwear to running, trekking and cycling.

As its name suggests, Amazzonia is eco-friendly, its strength comes directly from nature and particularly from corn, which is where BIOPHYL by Dupont Sorona's latest generation yarn, derives from.

This yarn gives the fabric its unique properties: exceptional softness, easy-care, high resistance to the sun's rays and chlorine. In addition the fabric is stainproof. BIOPHYL yarn has a low environmental impact; its production consumes 30% less energy and results in up to 63% less CO2 emissions compared with production of other fibres.

With the right combination of BIOPHYL and XLA New Generation, exceptional chlorine, perspiration and UV rays proof elastic fibre, developed by Dow Fiber Solutions, Carvico has obtained an easy-care fabric with unique properties, ideal for transfer as well as traditional printing. Once again Carvico respects the environment in the name of Green Vision, the code of ethics that has always driven company's choices.

Its commitment is to manage resources in a prudent, far-sighted manner through production that minimizes the impact of processes and products, respects environmental regulations and places articles designed and distributed in an eco-compatible way on the market.

Carvico S.p.A.