Handloom buyer-seller meet at Bhagalpur receives rousing response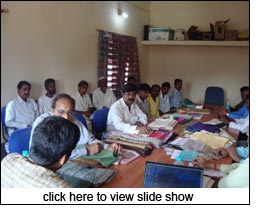 Under its handloom clusters intervention programme, Fibre2fashion is organising a series of reverse buyer-seller meets for the holistic growth of the Indian handloom, readymade garments, knitwear and leather clusters at Bhagalpur, Patna and Kanpur under the aegis of Development Commissioner (Handlooms), Infrastructure Leasing & Finance CDI Ltd., Bihar & Uttar Pradesh, Micro Small and Medium Enterprises Office, Kanpur.

The first of these reverse buyer-seller meet was held at Bhagalpur under the Bhagalpur Silk Cluster Program intervention on November 7, 2009 at Common Facility Centre, Puraini Village, District Bhagalpur. The Weavers Service Centre, under the direction of the O/o D C Handlooms, Union Ministry of Textiles, New Delhi organised the first BSM. The second BSM held on November 8, 2009, was organised by IL&FS CDI Ltd., Patna, Bihar under the aegis of 'Handlooms of Bihar' promotion programme at the same venue.
The Bhagalpur buyer-seller meet attracted numerous individual buyers as well as buying houses, which also included India's largest retailer of handlooms. There was also participation from one Canadian buying house via teleconference, who also offered valuable inputs and tips for attracting foreign buyers.

The various products on display included exclusive handloom fabrics made of tassar, noil, thai, korean, linen, viscose etc and home furnishings like curtains, bedsheets, floor coverings etc.

The buyers were very excited on witnessing the range of products and have floated several enquiries that may materialise in due course of time. More important was the sustained level of communication and efforts by Weavers Services Centre, Bhagalpur.

The domestic buyers discussed on the importance of presentation of the samples as it matters most for the buyers in terms of samples stapled with the tags indicating various specifications of the fabrics and colours, shades, yarn blends etc.

The meet began with an introduction by Mr H K Gupta, Assistant Director, Weavers Service Centre (WSC) briefing about the activities of WSC and its team comprising of Mr Dhananjay Kumar, Cluster Development Executive and others.

Mr Gupta divulging details about the Common Facility Centre (CFC) at the WSC informed that the CFC comprises of dyeing, printing and proposed value addition services like weaving, in-house yarn and fabric testing, quality services, show room and effluent treatment plant for zero-pollution etc and added by saying that the Centre also does offer services of processing of fabrics on job work basis of loads of up to 250 kgs per day.

Speaking about the role of fibre2fashion, Mr Amarashish Phanse informed that cluster branding and promotion was one area which was being focused upon by the world's leading B2B textile portal and there were more such interventions in the offing.

Mr Trushar Shah of Fibre2fashion spoke about the importance of joining the portal and its services which can decisively make a difference to organised weavers community at large to the cluster members.