'Pour investments into technical textiles' – Ms Singh at Texcellence 09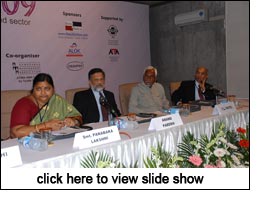 The fourth edition of 'Texcellence '09', a conference focused on textile and allied sector was hosted in Ahmedabad between November 13-14 at the premises of the Ahmedabad Management Association, which was attended by a host of dignitaries from the government as well as the private sector.

The welcome address was given by the convener of the conference, Mr DL Pandya who introduced the august gathering on the dais which compromised of Ms. Panabaka Lakshmi, Minister of State for Textiles, Smt Shashi Singh, Joint Commissioner of Textiles, Mr Anand Parekh, President (Textile Division), Reliance Industries Ltd and Mr AR Garde, former Director of ATIRA and currently associated with ATIRA-AMA Centre for Textile Studies.

The inaugural session began with a special address by Mr Arvind Parekh. Mr Parekh began by saying that the economic slowdown was showing signs of retreating and signs of revival were beginning to show along with which he also spoke about the key challenges the textile sector was facing in present times.

He was particularly concerned of the profitability of the textile sector as a whole which was not more than 3-4 percent and return on capital employed was as low as 20-25 percent and said that there was no over-supply in the markets, but the market scenario displayed signs of an over-supply since per capita consumption was very low in India.

He also expressed apprehension over the fact that, India has signed or was in the process of signing a number of Free Trade Agreements (FTAs) with countries and regions, due to which the situation of oversupply could worsen further and also was uneasy over the fact that there was little to differentiate between textile products rolled out by different textile companies.

He was full of praise for the textile and apparel manufacturing capabilities of countries like China and South Korea, which he said had economies of scale, differentiation and efficiency along with which he gave a example of a stitching machine operator who could stitch 18-20 shirts per day in India, while his counterpart in China was delivering 28-30 shirts per day.

His biggest woe was that innovation was lacking in the textile and apparel sector which was visible in other sectors.

The next in line of distinguished speakers was Ms Shashi Singh, who delved out statistical data pertaining to the Indian textile industry and urged the industry to target the domestic market, along with focusing on new overseas markets and said that rural government schemes like NRGEA had done wonders to the economy of the rural areas, since it guaranteed employment to the rural population, which had led to disposable incomes in those areas.

She also stressed on the need for differentiation and also innovation in the textile sector and advised the industry to focus on new overseas markets like China which was big importer of textiles and also take advantage of the various FTAs signed with different countries and regions and not fear of an invasion of different products, since the FTAs also provided access to Indian manufacturers.