Monforts stenter complying Shanghai's tough environmental protection laws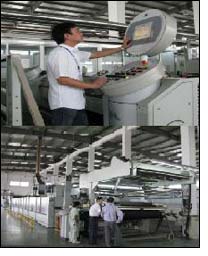 One of Shanghai's newest textiles producers, established in the new Shanghai Textile Industrial Park, Jinshan, manufactures fusible interlining on a large scale using a Monforts stenter as part of its high quality manufacturing technology; complying with Shanghai's tough environmental protection laws and to ensure its products can match or surpass international standards.

The Montex 6500 stenter, imported from Monforts German manufacturing facility, includes the integral heat recovery system, fitted as standard and exhaust air cleaning to further meet the stringent local environmental regulations. According to Tianquiang, the Monforts stenter ensures the highest quality and environmentally cleanest production. Shanghai Tianqiang Textile Co was founded by entrepreneurs Chen Xiaoye and Chen Xuebo as an integrated production line in 2006 for weaving, dyeing and coating. It also has its own research lab.

In addition to concentrating the textiles manufacturers into one zone to more carefully control harmful emissions and pollution, Shanghai Textile Industrial Park has the advantage of being near to Shanghai Chemical Industrial Park, which is also in Jinshan district. Consequently manufacturers have easy access to the raw materials for textile production.

In addition to the Monforts finishing range, the 70,000 m² Shanghai Tianqiang Textile plant features weaving machines from Germany, a double roller napping machine from Italy, and power-dot and double-dot coating machines from Switzerland.

Production manager Mr He Shun Hao says the annual capacity of woven interlining has reached 25,000,000 m², and dyeing capacity is up to 25, 000,000 m². The plant has also achieved ISO9001 Quality Control System certification.

The company owns three brands, namely Evestex, Goldbull, and Donghua, which use the double-dot and powder-dot coating processes. Products include warp-knitted interlinings, woven interlinings and elastic interlinings, and all are designed for good bonding behaviour with a variety of fabrics including cotton, wool, silk, flax and chemical fibre materials.

The Monforts stenter was installed by the Monforts Shanghai Representative Office, which also carries out after-sales service and maintenance. Mr He says that the stenter is handling material 157 cm wide, and weights of up to 679 g/cm², and is working six days per week on a two-shift-per-day basis.

"We are handling about 1,200,000 m/month of material with the stenter," he says, "and closely gear our production to the 13 weaving machines in the factory. As the stenter controls the width and shrinkage rate by PLC-control, we are able to achieve optimum performance for our products."

In its four years of existence, Shanghai Tianqiang Textile Co has established a marketing network throughout Asia and Europe, and works with its customers to develop products that can include any weight of outer fabric.