ATNT'09 to address crisis situation faced by textile industry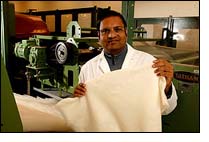 International textile trade is at crossroads now with global economic crisis and change in the world economic order. The textile industry, both in the developed and developing economies face problems and have to find remedies immediately. In developed economies such as the United States and Europe, governments are urging consumers to enhance their savings rate. The economic meltdown since December 2007 has severely hurt the export potential of growing economies like India. Particularly in India, lack of quantity and quality of raw materials, value-addition and skilled labor have aggravated the textile crisis.

To address these situations, an INDO-US collaborative international textile conference is jointly organized by the USA based Texas Tech University and India based Bannari Amman Institute of Technology in Sathyamangalam, India. Leading academicians and industrial experts from many different countries will convene for three days in Bannari Amman Institute of Technology, Sathyamangalam from December 7-9, 2009 to deliberate on cutting-edge research themes and industry issues.

The countries participate include USA, UK, China, Egypt, Turkey, Iran, Czech Republic, Italy and India. 142 papers will be presented. Nearly 300 delegates will have the opportunity to network, which will lead to future industry collaborations and academic exchanges.

According to Dr. Seshadri Ramkumar, Organising Secretary of international textile conference ATNT-2009 and Associate Professor, Texas Tech University, USA, "this will be the 6th year in a row, the ATNT conference is held in South India. All major textile industry related associations from the US, UK and India are supporting this year's international conference".

The conference will have 29 sessions showcasing papers from 9 countries and all major institutes from India. The plenary lecture "Reacting: to Change Unlimited Opportunity in the Textile Marketplace" will be given by Curtis White of AGEIS Environments, Michigan, USA.

A special feature of the conference is a focused session on cotton. The conference plans to bring all stakeholders in the cotton trade on a single platform to address the crisis situation faced by the textile industry.

The conference will be inaugurated by Smt. Panabaaka Lakshmi, Honorable Minister of State for Textiles, India. Mr. A. Sakthivel, President, Federation of Indian Export Organizations and Tirupur Exporters' Association, Mr. Bhupendra Singh, Joint Secretary, Ministry of Textiles, India will participate in the inaugural gala at 10:30 AM on December 7th. Mr. S. V. Arumugam, Trustee, Bannari Amman Institute of Technology will preside.

The valedictory function of the conference is planned at 4.30 PM on December 9th. Mr. K. Ramachandran Pillai, Chairman and Managing Director, National Textile Corporation, Ltd., New Delhi will deliver the valedictory address. Other key guests participating in the valedictory ceremony are Mr. Ahill Rathinasamy, President, Knit Cloth Manufactures Association, Tirupur, Mr. T. Rajkumar, Vice-Chairman, The Southern India Mills' Association, Coimbatore and Dr. T. Kannadasan, Officiating Vice-Chancellor, Anna University, Coimbatore.