Non-woven textiles producer Pegas gets P&G Excellence Award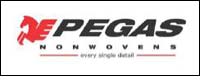 PEGAS NONWOVENS was awarded the "Excellence Award" for suppliers performing consistently at a high level by Procter & Gamble, one of the most important producers and sellers of consumer products in the world. This prestigious award was awarded to the Company for a second time in a row.

"It is a great honour for us to have again received such a distinguished award this year and to rank among the 55 awarded suppliers from a total of 80,000. We of course understand that this award also constitutes a significant future commitment to continue to provide quality services to our customers and to work on making them even better", said František Rezác, the CEO of PEGAS NONWOVENS s.r.o. and member of the Board of PEGAS NONWOVENS SA.

PEGAS NONWOVENS is a manufacturer of polypropylene/polyethylene nonwoven textiles for the hygiene, industrial, construction, agricultural, medical and other specialised sectors.

PEGAS NONWOVENS s.r.o.