President releases postage stamps on Traditional Indian Textiles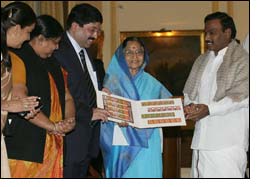 The President Smt. Pratibha Devisingh Patil released a set of four special postage stamps on Traditional Indian Textiles at Rashtrapati Bhavan.

The function was attended by Thiru Dayanadhi Maran, Minister for Textiles, Thiru A.Raja, Minister for Communications and Information Technology and Tmt Panabaaka Lakshmi, Minister of State for Textiles and Thiru. D. Napoleon, Minister of State, Social Justice and Empowerment

While introducing the stamps, Tmt. Panabaaka Lakshmi recalled the rich traditions of Indian Handlooms and enumerated the various steps being taken by the Textiles Ministry for the welfare of the Handloom weavers. In his address, Thiru A. Raja said that these postage stamps will help in popularizing further the rich traditions and culture of India. While delivering vote of thanks, Thiru Maran said that this is the first time that Department of Posts is releasing the Postage Stamps on Indian Textiles. He hoped that this step of Textiles Ministry will provide inspiration to millions of weavers who weave magic on their looms with their humble fingers.

A set of four stamps of denomination of Rs. 5/- each depicts Varanasi Brocade, Kanchipuram Silk, Kalamkari and Apa Tani Weaves. The details are as follows.

Varanasi Brocade – Brocade is a generic term used for any textile that is richly figured, especially for those with a pattern in gold or silver. In brocade weaving, extra weft threads of different coloured silk or zari, metallic threads, are woven into the basic fabric in the areas where they are to form a pattern. The most beautiful and intricate patternic technique is the kadwa, a sort of loom embroidery. A special type of brocade, the gyasar, has also been woven since the 19th century for secular use in Buddhist areas like Bhutan and Ladakh. Kinkhab, Sangi & Galta, Fekwa, Mashru or the other techniques used in the Varanasi.

Kanchipuram Silk – The temple town of Kanchipuram, South of the city of Chennai in Tamilnadu, has been famous centre for Hindu pilgrimage for close to two millennia. It has been equally famous for its figured and brocaded silk woven sarees. The great specialty of the Kanchipuram saree is solid coloured borders and pallus, shoulder pieces, which require the use of interlocking threads, a process called petni. The techniques for obtaining a pure contrasting colour for the boarder are called korvai. Gold zari of varying thicknesses and silk yarn are used for the extra warp figured in the boarder and extra weft figured in the body. The silk is comparatively compact, thick and richly textured due to the use of twisted three –ply yarn.

Kalamkari – The painted and printed textiles of Andhra Pradesh are popularly known as Kalamkari. The term Kalamkari, literally pen work, had its origin in the tools which the artisan used for the application of dyes. During the medieval period, a brush-like instrument called the kalam was used to draw pattern on fabric with natural color.